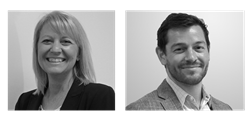 "Mike and Sherry are truly gifted and exemplify Verinovum's uniquely collaborative culture. They've both demonstrated a remarkable knack for working cross-functionally to deliver extraordinary outcomes."
TULSA, Okla. (PRWEB) February 25, 2020
Verinovum announced today promotions for two of its influential executive leaders. Company co-founder Mike Noshay has transitioned from his role as Chief Customer Officer to Chief Strategy and Marketing Officer, and Sherry Troutman, formerly Executive Director of Client Services, has been promoted to Chief Customer Officer.
A central figure in Verinovum's success over the past six years, Noshay's expanded responsibilities more accurately reflect his current role in managing organizational strategy and marketing. In this role, he is helping Verinovum to sustain its authoritative position as an industry-leading voice for data cleansing and curation and will help to ensure alignment between the company's growth strategy and its customer-focused values.
"Healthcare's struggles with dirty data have been well-documented. This is not a new problem. It has persisted for decades," said Noshay. "Verinovum has demonstrated a unique ability to cleanse and curate healthcare data with an incredibly high degree of accuracy, scale and speed without ripping and replacing your existing HIT framework. The healthcare IT ecosystem is complex for sure. But the fact that our capabilities are unique makes my job easy. I simply need to help guide and articulate Verinovum's vision to serve as the arbiters of clean data for payers, providers, ACOs and CINs."
Noshay was recently appointed to a board position at 36 Degrees North, an innovation hub for entrepreneurs and investors – which provides access to talent, technology and financing to help Verinovum achieve its goals for continued growth and customer satisfaction.
As Chief Customer Officer, Troutman will lead the customer-focused engagement and management teams as they support the entire customer journey, from the initial sales presentation, during the implementation process and over time as Verinovum customers use the platform to cleanse and curate data to support a myriad of different workflows and applications. In her role, Troutman's team will have the unique opportunity to work closely with customers and truly listen and understand their needs – so they can proactively plan and deploy the necessary resources at the right time to exceed customers' expectations for timeliness, accuracy and results.
"There's nothing more important than our customers' complete satisfaction," said Troutman. "I believe we're doing something incredibly special here. And it's my privilege to have the opportunity to build trusting relationships with every one of our customers. At the end of the day, we're all working to make a difference both in healthcare and in our society and I believe that helping to improve people's lives is what truly matters."
"Verinovum set out to accomplish an incredibly aggressive goal; to clean up healthcare data in some of the most challenging environments and use cases. In order to achieve our vision, we need to continually attract, train and reward world-class talent," said Mark McCurry, CEO of Verinovum. "Mike and Sherry are truly gifted and exemplify Verinovum's uniquely collaborative culture. They've both demonstrated a remarkable knack for working cross-functionally to deliver extraordinary outcomes – and these promotions will enable them to help unlock the latent talent across our entire organization. And I truly believe their success today will pave the path for others' success in the future."
About Verinovum
Verinovum is a market leader in clinical data cleansing and curation, enabling payers, providers, clinically integrated networks and accountable care organizations to improve operating performance and quality with actionable information. By delivering clean, complete, and accurate data, Verinovum supports healthcare organizations in their efforts to access the right information, in the right format, at the right time, so it may be tailored and curated to fulfill specific use cases and achieve mission-critical clinical and business goals. Discover more at Verinovum.com.