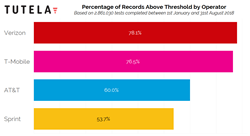 VICTORIA, Canada (PRWEB) October 29, 2018
A new study of mobile experience in the US has revealed the best network operators for 'consistent quality', a set of five key performance indicators that show the minimum network requirements needed to run the most popular apps. In the study, Verizon scored highest of the four carriers, meeting the minimum threshold in 78.1% of tests in urban areas, followed by T-Mobile (76.5%), AT&T (60%) and Sprint (53.7%).
The study, published by Tutela, an independent mobile quality measurement company, analysed over 240 billion measurements, including 11.4 million mobile network speed tests, 300 million latency tests and more than 600 million jitter and packet loss tests in the US between January and August, in order to provide a full picture of mobile experience.
In a state by state breakdown, Verizon came out ahead in 31 states in the contiguous US, while T-Mobile offered the highest consistent quality score in 14 states. The report also found the network performance of MVNOs to be consistently lower than that of their respective network, with Xfinity Mobile providing roughly half the data speeds of Verizon.
Tutela tests mobile networks in a way that represents the day-to-day usage and experience of real-world mobile users. The methodology and configuration simulate typical user mobile behaviour, such as accessing websites or downloading and sending images, rather than the more traditional testing of mobile network speeds, which are based on maximum potential speeds for mobile networks under optimum test conditions.
Tom Luke, Vice President, Tutela, said: "While top speeds are indicative of a strong network, we believe reliable network quality is equally, if not more, important. Our new consistent quality score gives a real-world view of true mobile experience, allowing operators to invest in areas that are going to have the biggest impact for consumers."
Luke continued: "Verizon's investments across the US have clearly paid off, but there's still room to grow. These network quality indicators aren't particularly challenging to reach, as the majority of most popular apps only require minimal performance to run. With operators battling to be the first to 5G, we need to ensure 4G doesn't get left behind."