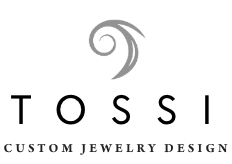 The brand switch highlights Tossi Jewelry's focus on custom jewelry designs that embody natural luxury.
NORTHFIELD, Vt. (PRWEB) May 20, 2019
Vermont-based custom jewelry designer, Tossy Garrett, has launched a new website, logo and company brand under the name Tossi Jewelry. Formerly known as Tossy Dawn Designs, Tossi Jewelry provides custom jewelry design for engagement rings, wedding rings, and a broad selection of handmade jewelry including necklaces, earrings, and more. The brand switch also highlights Tossi Jewelry's focus on designs that embody natural luxury. The new Tossi Jewelry website features the company's name change and a refreshed logo designed with the help of award-winning branding and digital marketing agency, Shark Communications.
The company's new logo is a streamlined and updated version developed by Shark from the company's original logo hand-designed by Tossy Garrett. The new logo introduces a modernized design system for Tossi Jewelry – which has since taken effect across print and other digital media – while providing familiarity for the company's existing client base, which extends from Vermont across New England and as far West as California and Oregon.
As Tossy Garrett notes, "My new company name, logo, and website mark a wonderful evolution in my business's brand identity. By changing the 'y' to an 'i,' the Tossi name creates a design aesthetic that dovetails with my custom jewelry work, with European undertones that pay homage to my background and jewelry education rooted in traditional Italian metalsmithing techniques."
The new website features Tossi Jewelry's name change, refreshed logo, and a design interface which makes use of neutral colors to better showcase the company's portfolio of beautiful custom jewelry pieces. The website utilizes a more contemporary design interface, with a gallery-like framework for presentation purposes; responsive display across desktop, tablet, and mobile browsers; hi-resolution image display of jewelry pieces; and on-page SEO to improve search results.
For over 18 years, Tossi Jewelry has designed and created handmade jewelry in Vermont with a focus on transforming customers' stories into custom designs, and a commitment to using metals and stones from recycled and socially responsible sources. For more information about the company, please visit http://www.tossijewelry.com.
Shark Communications is an award-winning, creative and digital marketing agency in Burlington, VT. Since its founding in 1986, the agency has been recognized for its creative excellence across multiple media, including film production, broadcast TV, and print.