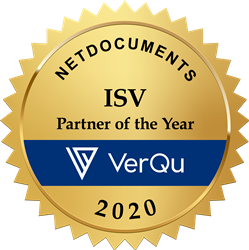 VerQu exemplifies an unmatched commitment to excellence for their service offerings and support of mutual customers. The awardees including VerQu have driven double-digit growth in new business for the company. Reza Parsia, VP of Strategic Partnerships at NetDocuments
RARITAN, N.J. (PRWEB) November 05, 2020
VerQu, a privately held software solutions and services provider, has been named NetDocuments' 2020 ISV Partner of the Year for its quality of integration, promotion of integration in the market, and proactive alignment with NetDocuments. The company accepted the inaugural award at the NetDocuments Elevate 2020 virtual conference, where it also shared stories of customers' successful integrations using its Hive platform.
"VerQu and NetDocuments' partners in other award categories exemplify an unmatched commitment to excellence for their service offerings and support of mutual customers," stated Reza Parsia, VP of Strategic Partnerships at NetDocuments. The awardees have driven double-digit growth in new business for the company, the legal industry's most trusted cloud-based content services and productivity platform.
"We are honored and excited to have been named NetDocuments' ISV Partner of the Year," said Ian Tighe, Vice President of Sales & Marketing at VerQu. "Our team is proud of the work we've accomplished. We look forward to continuing to expand Hive and to ongoing success working with NetDocuments."
VerQu's Hive technology — the first platform the company developed for NetDocuments, released in January 2020 — delivers a single solution for search, analytics, governance, remediation, and reporting, eliminating the need for multiple point solutions within NetDocuments.
VerQu continues to innovate within Hive to keep pace with NetDocuments, releasing its ShareSpace Migrator in Q2 2020. The new technology helps users make a clean transition from ShareSpace to CollabSpaces. By allowing deeper integration for CollabSpaces across the NetDocuments platform, ShareSpace Migrator increases efficiency and transparency while working with clients.
A preview of another all-new solution within the Hive platform is planned for later this year. Upgrades to Hive's Importer, Exporter and Help Desk Admin, are scheduled for 2021.
"There is no greater satisfaction than to have our team's work recognized," said Frank Perrone, Managing Director at VerQu. "We look forward to finishing 2020 strong and having an even better 2021."
To schedule a Hive demo, contact VerQu at 908-739-0516 or info@VerQu.com, or visit VerQu.com to learn more.
# # #
About VerQu, LLC
VerQu migrates, manages, and innovates the data you want, where you need it. We offer software solutions and services and other cutting-edge technologies that help IT organizations increase profits, mitigate risk, and reduce operating costs.
We're a team of top-level engineers, developers and project managers with a deep knowledge and understanding of the ever-changing information technology landscape. Our wide range of migration and data management products — including Hive, ShareSpace Migrator, Hydra and Phoenix — ensures we have a solution for every data demand. VerQu has successfully served domestic and global organizations ranging from SMBs to Fortune 500 companies.
For more information, visit http://www.VerQu.com.
About NetDocuments
Founded in 1999, with more than 2,850 enterprise customers worldwide, NetDocuments is the legal industry's most trusted cloud-based content services and productivity platform. Complete with state-of-the-art built-in security, compliance and governance solutions, NetDocuments offers document management, email management and collaboration technology complete with disaster recovery, enterprise search, and matter centricity features. For more information about NetDocuments, please click here.
Contacts:
Ian Tighe, Vice President of Sales & Marketing
C 201-819-3169
Ian.Tighe@VerQu.com
Frank Perrone, Managing Partner
C 908-642-7511
Frank.Perrone@VerQu.com