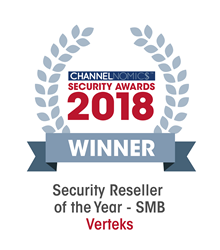 I am very proud of the hard work and dedication of the Verteks team in staying abreast of the latest threats and maintaining the highest levels of training in state-of-the-art security tools.
OCALA, Fla. (PRWEB) September 18, 2018
Verteks Consulting, a leading provider of IT services, cyber security services, and managed IT support to businesses and government agencies, announced today that it has received the Channelnomics Security Reseller of the Year — SMB award for 2018. The award was presented to Verteks CEO Don Gulling at a gala event in New York City on Sept. 13.
"We are thrilled to be honored by Channelnomics with this prestigious award," Gulling said. "It's especially exciting given that this is the inaugural year for this event. Channelnomics understands the critical role of solution providers such as Verteks in helping to protect small to midsize businesses from ever-increasing security threats, and launched this event to recognize excellence in the delivery of security solutions and services."
The Verteks security practice emphasizes practical, cost-efficient solutions and services that address the most significant threats SMBs face today. Verteks provides comprehensive cybersecurity assessments and network penetration testing to identify vulnerabilities in a customer's IT environment. Verteks also maintains strong relationships with leading providers of security solutions designed for the SMB market. Two Verteks partners, WatchGuard and AlienVault, received Channelnomics MSP Awards for 2018.
"A security breach can be devastating to any SMB, costing many thousands of dollars and causing business-crippling downtime," Gulling said. "I am very proud of the hard work and dedication of the Verteks team in staying abreast of the latest threats and maintaining the highest levels of training in state-of-the-art security tools. It is through their efforts that we are able to reduce the risk that a cyberattack will impact our customers."
Jessica Meek, Editor of Channelnomics, said, "As security becomes the beginning, middle and end of everybody's business, large or small, innovative leaders in the security space are more important now than ever before. The winners of the Channelnomics Security Awards are the leading lights in the security industry, the people who think security 24/7 so the rest of don't have to. It is vital, therefore, that we recognize and honor their drive, passion and commitment to the industry, as without them we would all be significantly less secure"
About Verteks
Verteks Consulting provides leading-edge voice, video and data networks to business and government clients throughout the U.S. With a focus on Unified Communications and advanced networking solutions that improve efficiency, reduce costs, increase competitiveness, and improve customer service, Verteks helps its business and government clients confront the challenges of today's dynamic marketplace. Verteks provides turnkey solutions that include project planning, installation, onsite training and 24×7 support services — including a leading-edge proactive support solution called "Total System Care."
For more information, visit http://www.verteks.com. Twitter: @VerteksConsult
About the awards:
The Channelnomics Security Awards have been designed to recognize the trailblazers in the security industry - those players who are embracing the ever-changing face of the market and making it possible for the channel to forge ahead in this challenging landscape.
With 30 categories designed to recognize the achievements of resellers, MSPS, MSSPs, vendors and distributors, our winners will be those that stand out from the crowd and sit head and shoulders above their security industry peers.
The Channelnomics Security Awards are completely independent and based solely on innovation and achievement in the North American security space over the past year.
About Channelnomics:
Channelnomics.com is the number one hub for the U.S. channel, providing the most important and in-depth analysis, opinion and news affecting the North American channel and solution provider, distributor and vendor industries.
Find the CSAs online:
Website: events.channelnomics.com/securityawards
Twitter: @Channelnomics #CNSecAwards