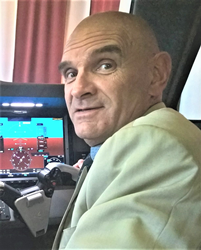 Much of the avionics-related industrial progress at Airbus Helicopters, its knowledge pool, its operational and commercial successes, along with numerous avionics standards, specifications and systems engineering processes have been made possible thanks to Germanetti's vision, efforts and expertise.
FAIRFAX, Va. (PRWEB) December 14, 2022
The Vertical Flight Society, the world's leading professional society dedicated to advancing vertical flight, announced today that Airbus's Serge Germanetti has been selected for the prestigious 2023 Alexander A. Nikolsky Honorary Lectureship. The Lectureship is awarded to "an individual who has a highly distinguished career in vertical flight aircraft research and development and is skilled at communicating technical knowledge and experience."
Germanetti is the Executive Expert for Avionics Systems in Airbus Group, acting as a technical advisor for Airbus Helicopters. He was nominated for his "many technical innovations in avionics that found their way into serial application all along his career path, and his ability and motivation to communicate and share his vast knowledge and experience with the next generation of vertical flight engineers."
At Airbus, Germanetti led avionics systems architecture and cockpit design, and participated in multiple civil and military helicopter avionics developments. With 40 years of experience in hardware/software and system development in the international environment, he contributed to most of the avionics systems of Airbus helicopters. The owner of more than 20 patents related to avionics systems and enhancing fleet safety, Germanetti is considered the "Father of Helionix," the full avionics suite equipping the Airbus civil range of helicopters.
Over the past four decades, Germanetti has made major contributions to the broader helicopter community, presenting numerous papers in international forums, including technical papers at multiple VFS conferences. He served for many years on the VFS Systems Engineering Technical Committee, including as its chair.
He has actively contributed to specific helicopter rulemaking activities with various official bodies, such as SAE International, EUROCAE WG79 and RTCA 214 working groups. With the support of the French Aeronautics and Astronautics Association (3AF), he initiated a new SAE Aerospace Recommended Practice (ARP8459) to define rulemaking baselines for expanding the helicopter flight domain using vision-based solutions.
Germanetti is a graduate of the French Higher School of Aeronautics and Space (now ISAE-SUPAERO) in Toulouse, receiving his PhD in 1983. He regularly teaches and conducts short courses on helicopter avionics and systems for aerospace engineering students at his alma mater. For his strong commitment to university and professional training, the French government awarded him "les Palmes Académiques" in 2019, a distinguished recognition of individuals highly involved in the transfer of their expertise through national education programs.
Early in his career, he put in place new systems for vehicle and engine monitoring, introducing digital computing and liquid crystal display technology when only analog solutions were in place. In order to simplify the pilot workload using these new technologies, he invented the First Limit Indication, which is now used by helicopter manufacturers all over the world. Germanetti has led its evolution throughout his career by supporting new engineers when developing enhancements, fostering cooperation with research labs and developing patents on multiple avionics domains, all focused on the use of technology to enhance helicopter operations and safety.
Germanetti's nomination stated, "Today, much of the avionics-related industrial progress at Airbus Helicopters, its knowledge pool, its operational and commercial successes, along with numerous avionics standards, specifications, and systems engineering processes have been made possible thanks to Serge's vision, efforts, and expertise."
His in-depth knowledge about avionics architectures, standards, processes, airworthiness rules, systems engineering methods, his leadership in establishing lasting collaborations and ensuring steady progress across technical functions, industry, academia, standardization bodies, avionics suppliers, along with his engaging personality have earned him the title of Airbus Executive Expert, the only one in the avionics discipline across the Airbus Group.
Germanetti will present his Nikolsky Lecture, "50 Years of Innovation, Reducing Pilot Workload and Enhancing Safety by Helping Pilots Manage Helicopter Performance," at the Society's 79th Annual Forum & Technology Display on Tuesday, May 16, 2023, at the Palm Beach Convention Center in West Palm Beach, Florida. He will then be honored at the Forum 79 Annual Grand Awards Ceremony with the presentation of the Alexander A. Nikolsky medallion and certificate. His detailed written treatise expanding the lecture will be featured in the Journal of the AHS, the world's only scientific journal dedicated to vertical flight. Information on Prof. Alexander A. Nikolsky and prior Nikolsky Lectures is available at http://www.vtol.org/nikolsky.
The Vertical Flight Society — founded in 1943 as the American Helicopter Society — is the global professional society for engineers, scientists and others working on vertical flight technology. VFS brings together industry, academia and governments to tackle the toughest challenges in vertical flight. For 80 years, VFS has led technology, safety, advocacy, and other important initiatives, and has been the primary forum for interchange of information on vertical flight technology.
The Vertical Flight Society
2700 Prosperity Avenue, Suite 275, Fairfax, VA 22031, USA
1-703-684-6777 • fax: 1-703-739-9279
pr@vtol.org • http://www.vtol.org