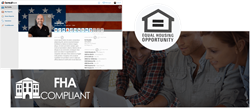 Ronald Reagan said it best, 'Trust, but verify' -- this statement permeates the core design of VerticalRent Community"
FORT MYERS, Fla. (PRWEB) March 04, 2020
VerticalRent Community was recently launched to help the 150 million renters in America find high-quality and like-minded roommates to share living quarters and rent expenses. Faced with job relocation, many American renters are seeking new methods to finding a roommate to share living expenses. Given this growing trend, VerticalRent has answered this marketplace need by launching Community, a roommate finding service powered by VerticalRent's proprietary background screening technology.
"Finding a roommate can be nerve wracking, especially when funds are tight and you are relocating to a new city for you career," explains Matt Angerer, President of VerticalRent. "I've been in that situation in the past and wish that a solution like VerticalRent Community was available to help me find a roommate that was background checked with proof of income," adds Angerer. "What's more is that people desire a roommate with similar life ambitions, interests, and day/night habits," explains Angerer.
VerticalRent Community's search and matching algorithm helps renters identify other renters with like-for-like characteristics. For example, if you prefer quiet evenings at home after a long day at work, our algorithm matches you with other renters seeking the same. Community's questionnaire is designed to also identify personality traits of individuals and match them with other potential roommates who mesh well. "Of course, we can't guarantee that two roommates will always get along, but our matching algorithm is designed to help grease the skids for a more amicable roommate relationship," adds Angerer.
Common questions that VerticalRent Community helps renters understand about a potential roommate include:

How do I know this person doesn't have a criminal or violent history?
Will this new roommate pay their fair share of the rent on-time every month?
Are they financially stable, or do they have co-signers who are?
What are their cleaning habits?
Do they like to party?
What are their working habits?
Are they early birds or night owls?
Do they like to host parties every weekend?
Are they carrying renter's insurance?
Have they ever filed for bankruptcy?
Have they ever been evicted from a previous apartment?
How many times have they moved in the last 7 years?
All of these questions are verified and validated with VerticalRent's proprietary badging engine. Renters can "badge up" by allowing VerticalRent's proprietary background screening engine to conduct a full investigation on their background. With each passed checkpoint, another badge is earned by the renter and publicly displayed on their renter profile.
"We are just starting down this road with VerticalRent Community. I am envisioning a leader board in the future where renters can showcase their badges," adds Angerer. "Ronald Reagan said it best, 'Trust, but verify' -- this statement permeates the core design of VerticalRent Community," explains Angerer. "We want renters to feel safe using our new roommate finding service and we believe that is done with our tenant background verification engine," concludes Angerer.
VerticalRent Community is free to the 150 million plus renters in America. Renters can sign-up at VerticalRent's website, complete their questionnaire, publish their renter profile, badge up, and start searching for a potential roommate in the metro area they choose. Renters can then like/dislike profiles and decide whether they want to securely private message a potential roommate to setup a virtual or physical meet & greet. Once a roommate relationship is established, the renters have the option of sharing rent expenses and paying rent electronically thru the VerticalRent Tenant Portal.
About VerticalRent
VerticalRent® is easy to use rental property and roommate finding software. We help both landlords and renters with a variety of tools including tenant screening, online rent collection, and finding a roommate. Since 2011, VerticalRent has serviced over 100,000 landlords and renters from across the United States. Our proprietary tenant background check powers both VerticalRent and VerticalRent Community. For more information, visit http://www.verticalrent.com