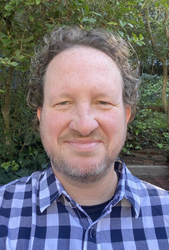 "The level of innovation and high quality of the products that Very builds for their customers impressed me immediately. I'm excited to lead this team in identifying and solving some of the world's most pressing technology challenges." - Luke Wilhelm, CPO at Very
BOZEMAN, Mont. (PRWEB) March 01, 2021
Very, a leading IoT engineering firm delivering end-to-end IoT solutions for mid-market and enterprise customers, today announced the hire of Luke Wilhelm as Chief Product Officer. Formerly the Director of Hardware Engineering at Uber Elevate and a Senior Manager of Product Design at Apple, Wilhelm will lead Very's team of senior engineers, designers and data scientists in the strategic development of products that solve critical challenges in the IoT space and beyond.
"The level of innovation and high quality of the products that Very builds for their customers impressed me immediately," Wilhelm said. "I'm excited to lead this team in identifying and solving some of the world's most pressing technology challenges."
Wilhelm's hire coincides with a period of massive growth for Very, in spite of the challenges brought on by the COVID-19 pandemic. Since January 2020, the company has nearly doubled the size of its delivery team to accommodate increasing client demand. Very took home several award wins in the last year as well, including Inc. Best in Business, the Clutch 1000 and IoT Partner Enablement Company of the Year from IoT Breakthrough.
"It's time for Very to take the next step," Ryan Prosser, CEO of Very, said. "We believe that Luke's deep industry knowledge and drive, combined with our team's unparalleled technical expertise, will get us there."
Wilhelm has more than 20 years of experience in product leadership, hardware engineering and product design at companies including Uber, Apple and QuantumScape. At Uber, he directed conceptual vehicle design, CAE, battery system design, cell technology and battery safety for Uber Elevate, which led to a 2020 acquisition of Uber Elevate by Joby Aviation.
About Very
Very is a fully-distributed IoT engineering firm, partnering with their clients to build systems for smart manufacturing, smart energy & utilities, consumer electronics, and connected wellness. Focused on speed, efficiency, and scalability, Very's product teams de-risk IoT projects. Learn more at verypossible.com.