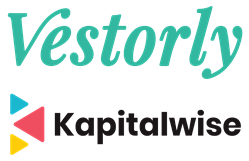 Providing the financial community with relevant content is a core component of any cutting edge financial institution.
NEW YORK (PRWEB) November 16, 2021
Vestorly and Kapitalwise have announced an integration partnership to offer Vestorly's award-winning artificial intelligence (AI) driven content curation engine to users of Kapitalwise's software platform. The integration will enhance Kapitalwise's existing content library with streams of safe, reliable and compliant articles. The Vestorly content curations will be made available in the engagement builders, financial widgets and calculators of Kapitalwise's marketing and response automation platform. Kapitalwise's customer base of leading financial institutions will benefit from having Vestorly's trusted content within its powerful customer engagement platform.
Ralph Pahlmeyer, CEO of Vestorly, explains, "We are excited to develop our relationship with Kapitalwise to enhance their state-of-the-art marketing solutions for the financial services industry. We believe that our partnership will improve the level of marketing and client engagement tools on offer. The ability of our AI-driven technology to surface top content from across the web provides a powerful addition to Kapitalwise's leading customer engagement solution."
Vestorly's AI-driven content curation engine tracks audience engagement and content preferences to surface increasingly relevant content. Kapitalwise users can use their data on audience interests, hobbies, retirement plans and financial holdings to surface highly personalized content through Vestorly's curation to fuel communications and build deeper customer relationships.
With Kapitalwise's no-code marketing platform, financial institutions can automate customer engagement by connecting internal data with customer-facing apps to facilitate automated and precise customer engagement. The agile platform makes marketing frictionless and therefore accessible for financial institutions to grow their businesses.
Sajil Koroth, CEO of Kapitalwise, explains, "We are known for our out-of-the-box forward thinking solutions that build engagement through leveraging the power of data and personalized content. There is no doubt that providing the financial community with relevant content is a core component of any cutting edge financial institution. We are excited to offer Vestorly's AI powered content curation capabilities through our platform. We know our customers will appreciate the increased client-centered content inside our engagement builder and embedded finance products."
"We've seen a significant uptick in requests for AI solutions that provide relevant, timely content for internal and external communications to maintain a feeling of connection and engagement," Pahlmeyer notes. "AI-powered content platforms are the future of content marketing, but demand is growing now for solutions like Vestorly as people look to build impactful relationships in a virtual environment."
About Vestorly
Vestorly is a best-in-class content curation platform on the cutting edge of content marketing with a pioneering content management engine that leverages the latest advances in artificial intelligence to curate content. We're on a mission to usher in the next generation of data-powered content engagement that allows our customers to maintain their business's personal, human side.
The core of Vestorly is an intelligent content engine that curates content from anywhere in the world. Using AI, Vestorly's software surfaces personalized content streams in more than 70 ready-to-share content categories. Vestorly's content curation process lowers the cost of content inventory by factors of 3X or more. Through its Robo-Compliance system Vestorly reduces the friction of leveraging content to ensure safe content streams.
For more information on Vestorly's leading-edge AI-powered Content Management Engine, go to Vestorly.com or contact Joel Goobich at joel@vestorly.com
About Kapitalwise
Kapitalwise is a digital platform delivering optimized client engagement, designed for businesses of all sizes. Harness your firm's data, deliver pinpoint communications, and measure customer engagement on an unprecedented scale, all through the Kapitalwise no-code platform.
You can learn more about Kapitalwise by visiting kapitalwise.com or contacting Sean Parker at sean@kapitalwise.com