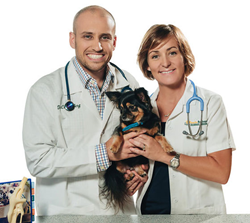 CLAREMONT, Calif. (PRWEB) November 08, 2018
Dr. Susan Bohrer and Dr. Chris Berg are making their voices heard this November in respect to Pet Diabetes and Pet Cancer Awareness month – urging all pet-owners to transition their beloved dogs to a fresh, whole-food, Eastern Medicine based diet in order to help heal, balance and prevent their companions from disease.
Research conducted by the Association for Pet Obesity Prevention reports that 54% of all dogs in the United States are classified as overweight or obese – noting that some of the most common obesity-related illnesses in dogs are diabetes, arthritis, chronic inflammation and many forms of cancer.
As practicing veterinarians for over 14-years, Dr. Susan Bohrer and Dr. Chris Berg firmly believe that the sharp increase in canine obesity rates are attributed to the heavily-processed, high-carb, low-nutrient kibble diet that the majority of pets are on, with Chris stating that:
"Feeding real foods, which are balanced to your dog, is the single greatest thing you can do to improve your dog's health. On a daily basis, we see tons of pets, all presenting for different issues, and it's outstanding to us how many of those problems could simply have been prevented by a better diet."
Aware of the health dangers of kibble and wanting to find a better alternative, Susan began studying and practicing Chinese Medicine Food Therapy, which focuses on balance in the body by using the 5 Elements and Yin & Yang to prevent disease and heal. Human and animal health are influenced by each element; and every dog has a unique set of personality traits that aligns with one of these elements, known as their Chi.
As Susan began transitioning her patients to a freshly cooked diet in accordance to their personal Chi element, the improvements in their health were astounding, and Chris, although traditionally trained in Western medicine, became a believer in elemental principles after witnessing the positive effects Susan was achieving.
Along with traditional treatments, Susan and Chris have spent the last three years healing and improving the health of dogs through Eastern Medicine food therapy, including a severely-ill female spayed Pomeranian named Niki, who presented with life-threatening symptoms of severe inflammation, lack of appetite, lethargy and unexplained lesions as a direct result of her kibble-based diet. Susan and Chris warn that unusual symptoms like these, along with excessive water drinking and cloudy eyes, could be indicators of serious diseases in dogs, such as diabetes.
Niki's success story became the driving force in creating Chi Dog – the first veterinarian-owned, personalized fresh-food delivery brand made to improve your dog's health. Chi Dog was founded by Susan, Chris and Niki's owner, food industry expert Laurie Hatfield, who've all teamed up under the mission of bringing the healing power of Chi to dogs across the nation.
Using only human-grade meats, fresh vegetables and whole grains – all recipes are customized to your dog's personal Chi element, which can be discovered on the Chi Dog website, and are formulated to meet the nutritional levels established by the AAFCO Dog Food Nutrient Profiles for all life stages.
Committed to creating healthier lifespans for dogs and increasing awareness for dog-owners nationwide, Susan and Chris ask for pet owners to be proactive, especially this month, in taking their companions for check-ups and asking their vets about the benefits of a freshly-cooked, whole food diet for them. Now more than ever, it is imperative to ensure the health, safety and happiness of your pet.
For additional information about Chi Dog, please visit http://www.chidog.com. Media interested setting up an interview with Dr. Susan Bohrer and Dr. Chris Berg to learn more about Chi Dog, integrative food therapy and Chi Elements, please contact Sara White at sara@adinnyc.com or 212-693-2152.