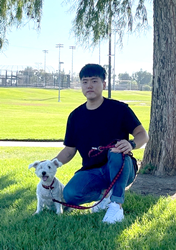 After serving in the United States Army as a combat medic, Pet Wants gives me the opportunity to combine my love for animals and my experience in health to help pets throughout my community. - Changki Lee
BUENA PARK, Calif. (PRWEB) November 09, 2021
When Changki Lee was growing up as an only child in Korea, he spent a lot of time with his family's dogs. All 50 of them. Now he's looking forward to continuing his family's tradition of helping animals live their best lives with the launch of his new business – Pet Wants Buena Park.
"My father was an architect in Korea and we had a big front yard. He loved dogs, so when he found one that needed care, food or a place to live, it came to live in our yard. They were community animals in a way, but they were a huge part of my life. When we moved to the United States when I was 9, we found homes for them, but I felt like I left a part of me behind," Lee said. "After serving in the United States Army as a combat medic, Pet Wants gives me the opportunity to combine my love for animals and my experience in health to help pets throughout my community."
Pet Wants' specially-crafted, private-label pet food formulas are made in small batches with fresh, natural ingredients enhanced with vitamins and minerals for a complete and balanced diet in every bowl, all made in the USA. Pet Wants Buena Park has multiple blends of dog and cat food formulas as well as healing salve, calming balm, anti-itch spray, paw wax and more. As a mobile business, Lee offers free, personal delivery throughout Central OC, including to Buena Park, Fullerton, Cerritos and the surrounding areas. Customers might even get to meet his white miniature schnauzer – Sammi.
"People are more concerned with the food they are eating than ever – they are looking for organic and healthy ingredients – and I think that translates into what we're feeding our pets as well. Pet Wants' focus on fresh, healthy, slow-cooked, small-batch food makes it a great option for families ready to help their pets live long, healthy lives," Lee said.
Pet Wants has a money-back guarantee on the freshness and quality of the food, the company only sources the best salmon, chicken, lamb, brown rice and other ingredients available. There's no sugar added, no fillers and no animal by-products and Pet Wants never uses corn, wheat, soy or dyes, which makes the food great for animals with allergies.
To learn more about Pet Wants Buena Park, call 714-699-6545, email CLee@PetWants.com or visit http://www.petwants.com/buenapark.