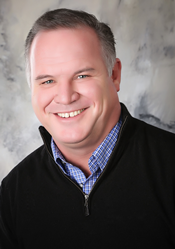 Coaching unlocks human potential ... I'm not there to tell someone how to run their business–they are the experts in their own business–but I am there to help them understand the different ways they can improve themselves, their teams and their business through strategic development. - Adam McLean
ORLANDO, Fla. (PRWEB) January 10, 2019
Air Force veteran and experienced leader Adam McLean is pleased to announce the launch of his new business and sales coaching company, The Growth Coach of Central Florida.
The Growth Coach is the largest provider of affordable group coaching workshops in the nation, but coaches also offer group and one-on-one coaching for sales professionals, managers, management teams, self-employed professionals and more through a wide variety of programs through three industry-leading series – their Foundational Series, Fundamental Series and Fast Forward Series. The Growth Coach also recently announced their GC Insights program, which uses behavioral analysis to unlock human potential to build high-performance teams and stronger leaders.
The Growth Coach's mission is to help business leaders build more successful businesses and more balanced lives through coaching, support and accountability. The Growth Coach of Central Florida serves the Orlando, Windermere, Winter Garden, Ocoee, Doctor Phillips, Hunter's Creek and surrounding areas.
In a rapidly changing business environment, consistent performance excellence is an absolute must for successful, individuals, teams, organizations, and businesses of all sizes. The Growth Coach of Central Florida brings business leaders to maximize the effect of their efforts and success stories.
McLean is a 1991 graduate of the United States Air Force Academy. He has more than two decades of military service as an Air Force pilot and has been a squadron commander for an air refueling squadron in Tampa. He has provided strategic planning and operational expertise to the highest levels of the military and the federal government and continues to serve as a reservist. As a Growth Coach, McLean is certified in The Strategic Mindset coaching process, which adheres to the standards, practices and policies that the International Coaching Federation has set forth in their Code of Professional Standards and Ethics. He is also currently conducting research for his PhD in Performance Psychology.
McLean decided to become a Growth Coach to combine his experience, his passion for leadership development and The Growth Coach's proven programs in a way that would benefit business owners and company leaders in his community.
"Coaching unlocks human potential. As a coach, I'm not there to tell someone how to run their business – they are the experts in their own business – but I am there to help them understand the different ways they can improve themselves, their teams and their business through strategic development. Through my experience and my educational research, I've had the opportunity to learn what drives human performance and I know that's a big part of having a successful business. Understanding how we're hardwired and using that knowledge to our advantage is key to exceeding our goals," McLean said.
The Growth Coach, founded in Cincinnati, Ohio, sold its first franchise in 2003, but its leaders have a successful 20-year track record of helping business leaders find success and balance. Today the business and sales coaching franchise is in more than 100 markets worldwide. The Growth Coach was included in Bond's "Top 100 Franchises" and recognized in Entrepreneur Magazine's "Franchise 500" and "Best of the Best," in USA Today and has been featured on FOX, CBS and NBC. The company's landmark Strategic Mindset Process is so effective that it comes with a money-back guarantee.
For more information about The Growth Coach of Central Florida, call (407)362-6332, email AMcLean@TheGrowthCoach.com or visit http://thegrowthcoachcentralfl.com.