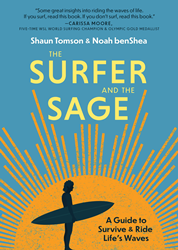 We are excited to have Shaun Tomson bring his attitude-alerting expertise to our symposium, in which many attendees are looking for ways to change their mindsets and improve their work and home lives,
LOS ANGELES (PRWEB) February 07, 2023
Veteran world surfing champion Shaun Tomson will address the annual Healthcare Burnout Symposium on keeping a positive mindset on Friday, February 24 at the UCLA Luskin Conference Center.
At 10:40 am, Tomson will introduce The Code for the Next Wave - An Intervention to change mindset, based on his recent #1 Amazon Best-seller, The Surfer and the Sage: A Guide to Survive and Ride Life's Waves (Familius Publishing), co-written with Poet-Philosopher Noah benShea. Tomson employs surfing as a metaphor to analyze 18 "breaking waves" of life, including loss, depression, aging, and relationship changes.
The conference, which runs from the 24th to the 25th, is dedicated to eradicating physician, nurse, and all healthcare staff burnout. It is a public health crisis that demands action across the entire healthcare ecosystem.
"Burnout not only affects clinicians but also the patients they serve", said Gustavo Friederichsen, Chief Executive Officer, Los Angeles County Medical Association. "We are proud to be Presenting Sponsor for The Healthcare Burnout Symposium, gathering thought leaders and stakeholders to address the multiple facets of burnout, such as time constraints, technology, and policies, and will gain actionable solutions to implement within your health system."
According to Tomson, a native South African who has won surfing championships around the world, the Code is based on using the power of purpose to redefine one's life path and calls for individuals to create 12 life-affirming commitments for a more meaningful life.
Tomson developed the Code Method after losing his teenage son to a dangerous school game. He has learned to "ride the waves" of life and is eager to share his transformational method with others to inspire hope for a better life.
Tomson, who has a Master of Science in Leadership from Northeastern University and who created two popular apparel brands, Instinct and Solitude (co-founded with his wife Carla) has also worked with some of the world's best-known organizations - Google, GM, Cisco, PWC, Disney, and Gap -- to activate purpose and re-energize their teams.
Four Key Learnings that are designed to change mindset:

Define one's core purpose - simply and effectively
A method to unite individuals at a deeply emotional level
Publicly committing to positive transformational change
Inspiring and activating hope in a turbulent world
Other highlights include a panel on gun violence's impact on healthcare; HHS Secretary, Xavier Becerra; CA Surgeon General, Diana Ramos; world-renowned pioneer of research on job burnout, Christina Maslach, and many more national healthcare leaders.
"We are excited to have Shaun Tomson bring his attitude-alerting expertise to our symposium, in which many attendees are looking for ways to change their mindsets and improve their work and home lives," said Bill Doherty, International Conference Development (ICD) President and conference director. "We hope to shed light on the problem of healthcare burnout and Shaun has the ideas and passion to spread our message far and wide."
###