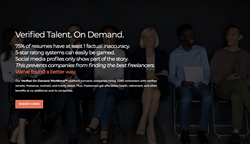 "Brad has played a pivotal role in leading organizations through growth and we are pleased to add him to our leadership team." ~Greg Kihlström, CEO and Co-Founder of CareerGig
ARLINGTON, Va. (PRWEB) December 01, 2020
CareerGig announced today that Brad Boyse will join CareerGig as Chief Financial Officer. In this position, he will be responsible for the overall financial stability of the company, and to help position CareerGig for optimal growth through revenue, capital raises, and strategic partnerships.
Mr. Boyse brings over 25 years of financial and entrepreneurial experience ranging from founder and innovator to senior leader at several of the world's most recognized global institutions including Goldman Sachs and Barclays Capital.
"Brad has played a pivotal role in leading organizations through growth and we are pleased to add him to our leadership team," said Greg Kihlström, CEO and Co-Founder of CareerGig. "As we grow our business, we expect his knowledge of the market and his past success in multiple financial industry verticals will serve him well in this role."
"CareerGig is filling a market need that is so significant at this time, and I'm looking forward to being a part of a company that helps contractors and freelancers achieve the same feeling of control and opportunity around their career as those in large heavily structured corporations but with greater flexibility," said Mr. Boyse.
###
ABOUT CAREERGIG
Career benefits. Gig lifestyle. Choose both. CareerGig is a SaaS technology platform and ecosystem that matches freelance and contract workers to top employers, and with independent access to health and financial benefits exclusively tailored for those in the gig economy. Incorporating blockchain and AI technology, CareerGig also provides employers the ability to hire qualified and verified talent through an accelerated and scalable state-of-the-art process. CareerGig helps individuals create freelance careers, and makes life easier and more secure for companies that hire them. Learn more at http://www.careergig.com