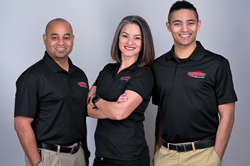 We are committed to being on time and on budget and our painters will always look and act in a professional way. While it seems like those things should all be standard, we are finding that, in this industry in our area, it's not the experience our community has had. - Alexander Serrano
SAN ANTONIO (PRWEB) April 07, 2020
Leah and Alexander Serrano, both military veterans, are pleased to announce the launch of their new painting company – Fresh Coat Painters of Northwest San Antonio.
Fresh Coat Painters offers residential and commercial painting services including interior and exterior painting, sealing and staining; pressure washing; popcorn ceiling and wall paper removal; garage epoxy and other services for nearly every protective coating application in addition to gutter cleaning and drywall repair. Fresh Coat of Northwest San Antonio has a 24/7 receptionist, online scheduling and free detailed quotes, and they only use high-quality materials. Fresh Coat of Northwest San Antonio serves San Antonio, Castroville, Mico, Lacoste, Rio Medina and the surrounding areas.
"Fresh Coat of Northwest San Antonio is special because we are a veteran-owned franchise and, as the owners, we are involved in the entire painting process, from the first quote to the follow up. We also want our community to know that, in addition to our high-quality work, we are committed to being on time and on budget and our painters will always look and act in a professional way. While it seems like those things should all be standard, we are finding that, in this industry in our area, it's not the experience our community has had in the past. We are looking forward to changing that," Alexander said.
As part of the company's commitment to customer service, Fresh Coat offers a 3-3-3 customer service pledge, which means calls will be answered by a live person within three rings, a quote will be delivered within three days (customer schedule permitting) and the job will be started within three weeks. Fresh Coat has a national product partnership with Sherwin-Williams®, so products are guaranteed to be high quality.
Alexander served in the Army for over 20 years as a Warrant Officer while Leah, who served in the Army for over 10 years, was a Human Resource Specialist. When they decided to open a business together, they knew they wanted a franchise with a proven system and the support of a strong corporate team. They also wanted to build a company that could build on their close-knit family values and allow them to build a legacy for their children.
"Fresh Coat Painters gives us the support we need to bring an industry-leading experience to our clients and to offer things like financing options while running the business that speaks to our own values. We are looking forward to helping people in our area increase the values of their homes without the risks and worry of working with a fly-by-night painting company," Leah said.
Fresh Coat Painters was founded in 2004 as part of Strategic Franchising Systems. Since 2015, Fresh Coat has been included in the Bond's Top 100 and named to Entrepreneur Magazine's Franchise 500 list. Fresh Coat is also part of the International Franchise Association, the Small Business Association's Franchise Registry, VetFran and Minority Fran. All Fresh Coat Painters employees are background checked and Fresh Coat of Northwest San Antonio is bonded and insured.
For more information about Fresh Coat of Northwest San Antonio, call 210-947-7373, email ASerrano@FreshCoatPainters.com or visit http://www.FreshCoatPainters.com/Northwest-San-Antonio.