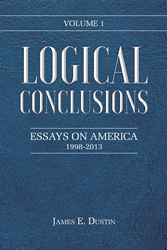 MEADVILLE, Pa. (PRWEB) January 29, 2021
"Logical Conclusions: Essays on America: 1998–2013: Volume 1": a collection of fascinating accounts written with thorough research that will bring to American citizens stories that will not only inform, but amaze. "Logical Conclusions: Essays on America: 1998–2013: Volume 1" is the creation of author James E. Dustin, a writer who worked for forty years as a practicing journalist with more than 150 professional awards to his credit.
Chapters in this volume include:
Chapter 1: American Government 101. Excerpt: "It was a stupid trial. The jury took about 44 second to convict him, and spent the rest of the time talking about cattle."
Chapter 2: Our Weird, Weird World: Excerpt: "One thing Columbus did not bring to America was a message of hate for the indigenous population, the Indians. Columbus didn't even know there were Indians here. Columbus didn't even know where he was going. He thought he was going to India, which is why the indigenous population came to be called Indians."
Chapter 3: We Muse on the News: Excerpt: Dustin writes, "I'm amused when I hear rich people say rich people should pay more in taxes because there is nothing preventing rich people from paying more in taxes."
Chapter 4: Sports: Excerpt: Dustin writes, "Synchronized swimming is just one of the sports that became part of the Olympics to broaden the opportunities for participation. This one accommodates slow swimmers. It comes to us from Canada, a country that does not produce many swimmers because the outdoor swimming season in Canada lasts about three hours."
Chapter 5: Dog Tales: Excerpt: Says anyone's dog, "Where are we going today, Jim, and what are we going to do? I don't care what you say, Jim, as long as I'm doing it with you!"
Chapter 6: Space and Science: Excerpt: One NASA report estimates that the mineral wealth of the asteroids in the Asteroid Belt might exceed $100 billion for each of the six billion people on Earth."
Chapter 7: The Gopher Relays: Excerpt: There are many harbingers of spring up here: seagulls return to the dumpsters, motorcyclists start crashing at the Pine Springs curve, we exchange ice fishing lies for open water fishing lies, and the gophers start running in the Gopher Relays."
Chapter 8: Useful History: Excerpt: "The Spokane public schools system forgot about Christmas. Imagine, an agency in frequent contact with children forgetting about this most special holiday for kids. The school district sent out a calendar reminding parents of important dates in December. These included Hanukkah, Kwanzaa, winter break, the first day of winter, Human Rights Day, and the Islamic holy day Eid al-Adha. But no mention of Christmas."
Chapter 9: Government Finances: Excerpt: Contained in this year's budget is an appropriation of $2.5 billion for ten C-17 aircraft that, after being built, will cost $100 million per year to operate. Trouble is, the Air Force doesn't want them, didn't ask for them, doesn't need them.
Chapter 10: We Get Mail: Excerpt: Dustin writes, "Were it not for the mail, I would not have known that October was National Window Covering Safety Month, sponsored by the U.S. Consumer Product Safety Commission and the Window Covering Safety Council. I didn't even know there was a Window Covering Safety Council, or that we even needed a Window Covering Safety Council. But apparently many humans are being injured by window coverings."
Chapter 11: Driving Us Crazy: Excerpt: Dustin writes, "There is, I believe, a large body of motorists who believe they have a right granted by one of the first ten amendments to the Constitution that allows them to change lanes in heavy traffic at any time."
Published by Christian Faith Publishing, James E. Dustin's new book is a compendium of one hundred and thirty-two essays that won state and national press association awards. These essays are a commentary on news and events that happened from 1998 to 2013 in the USA.
View a synopsis of "Logical Conclusions: Essays on America: 1998–2013: Volume 1" on YouTube.
Consumers can purchase "Logical Conclusions: Essays on America: 1998–2013: Volume 1" at traditional brick & mortar bookstores, or online at Amazon.com, Apple iTunes store, or Barnes and Noble.
For additional information or inquiries about "Logical Conclusions: Essays on America: 1998–2013: Volume 1," contact the Christian Faith Publishing media department at 866-554-0919.