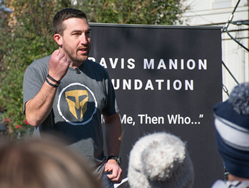 "With nearly 2,500 nominations nationwide, it's a testament to those employers who value our National Guard and Reserve members in such high regard, giving them the support needed to follow their commitment of protecting our freedom, which will never be taken for granted."
WASHINGTON (PRWEB) March 25, 2019
Travis Manion Foundation (TMF) has been named as one of 30 finalists for the 2019 Secretary of Defense Employer Support Freedom Award, as announced by Employer Support of the Guard and Reserve (ESGR) last week. The finalists represent large and small employers, as well as public sector organizations. ESGR received 2,415 nominations for this prestigious award for employers throughout 50 states, Guam-CNMI, Puerto Rico, the U.S. Virgin Islands and the District of Columbia.
The Employer Support Freedom Award is the highest recognition given by the Department of Defense to employers for their exceptional support of National Guard and Reserve members. On behalf of the Secretary of Defense, ESGR runs the annual award program, which has presented the honor to only 265 employers since 1996.
The 15 employers selected to receive the 2019 Secretary of Defense Employer Support Freedom Award will be announced by mid-June. Other nominees include: Barclays, Chevron, NBA Franchise the Cleveland Cavaliers, Cracker Barrel Old Country Stores, the Houston Police Department, Nationwide Mutual Insurance Company, and more. The complete list of nominees can be found at http://www.freedomaward.mil and http://www.esgr.mil.
"We are honored to be nominated for the prestigious 2019 Secretary of Defense Employer Support Freedom Award, along with so many other well deserving organizations. With nearly 2,500 nominations nationwide, it's a testament to those employers who value our National Guard and Reserve members in such high regard, giving them the support needed to follow their commitment of protecting our freedom, which will never be taken for granted."
About ESGR
ESGR is a Department of Defense program that develops and promotes supportive work environments for Service members in the Reserve Components through outreach, recognition, and educational opportunities that increase awareness of applicable laws. It also provides assistance in resolving conflicts between Service members and their employers.
About Travis Manion Foundation
Travis Manion Foundation (TMF) unites communities to strengthen America's national character by empowering veterans and families of fallen heroes to develop and lead future generations. In 2007, 1stLt Travis Manion (USMC) was killed in Iraq while saving his wounded teammates. Today, Travis' legacy lives on in the words he spoke before leaving for his final deployment, "If Not Me, Then Who..." Guided by this mantra, veterans continue their service, develop strong relationships with their communities, and thrive in their post-military lives by serving as character role models to youth. As a result, communities prosper and the character of our nation's heroes lives on in the next generation.
The story of 1st Lt. Travis Manion and his Naval Academy brother Lt. (SEAL) Brendan Looney have been publicized in the book Brothers Forever, and additional information about the Foundation can be found at http://www.travismanion.org.
For more information, contact Travis Manion Foundation Director of Marketing
Derrick Morgan (215) 622-2225 - Derrick@travismanion.org