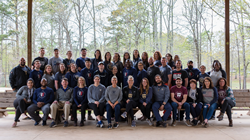 "It is only because of the passion and dedication of our amazing staff that we could receive this prestigious recognition. We are grateful to have such a talented team, who all value being empowered to contribute towards our mission of strengthening America's National Character."
DOYLESTOWN, Pa. (PRWEB) April 18, 2019
The 2019 Best Nonprofits to Work For report was dominated by small organizations (15 to 49 employees) and medium nonprofits (50 to 249 employees). Eighteen small organizations made the top 50, including No. 1 overall and five of the top 10. Medium organizations accounted for more than half of the list, at 27, including 11 of the top 20. Travis Manion Foundation ranked as the #10 overall Best Nonprofit to work for nationwide.
The top 10 key drivers identified in the survey were:

I feel I am valued in this organization
Most days, I feel I have made progress at work
I have confidence in the leadership of this organization
I like the type of work that I do
I can trust what this organization tells me
I like the people I work with at this organization
Quality is a top priority with this organization
Overall, I'm satisfied with this organization's benefits package
I understand the long-term strategy of this organization
My supervisor helps me develop to my fullest potential
The NonProfit Times partnered with Best Companies Group (BCG) on the 2019 Best Nonprofits To Work For. The Harrisburg, Pa.-based firm puts organizations through a battery of surveys to develop the key drivers. The Employee Benchmark Report portion of the survey includes 79 questions and statements within eight categories, with the percentage of respondents noted for answering "Agree Somewhat" or "Agree Strongly."
Organizations that were recognized as the Best Nonprofits To Work For scored an average 90 percent positive responses overall while those that participated in the survey but did not rank among the top 50 scored 82 percent on average. Travis Manion Foundation was one of only two veteran service nonprofit organizations, which both ranked in the top 10 nationwide.
For over a decade, Travis Manion Foundation has been providing best-in-class programs to families of the fallen and veterans, calling upon their strength of character and selfless service to lead our communities and inspire our youth. TMF President Ryan Manion said, "It is only because of the passion and dedication of our amazing staff that we could receive this prestigious recognition. We are grateful to have such a talented team, who all value being empowered to contribute towards our mission of strengthening America's National Character."
About Travis Manion Foundation
Travis Manion Foundation (TMF) unites communities to strengthen America's national character by empowering veterans and families of fallen heroes to develop and lead future generations. In 2007, 1st Lt. Travis Manion (USMC) was killed in Iraq while saving his wounded teammates. Today, Travis' legacy lives on in the words he spoke before leaving for his final deployment, "If Not Me, Then Who..." Guided by this mantra, veterans continue their service, develop strong relationships with their communities, and thrive in their post-military lives by serving as character role models to youth. As a result, communities prosper and the character of our nation's heroes lives on in the next generation.
The story of 1st Lt. Travis Manion and his Naval Academy brother Lt. (SEAL) Brendan Looney have been publicized in the book Brothers Forever, and additional information about the Foundation can be found at http://www.travismanion.org.
For additional information contact TMF Director of Marketing Derrick Morgan: derrick(at)travismanion(dot)org, or (215) 622-2225