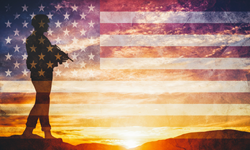 "As our society changes and terrorism and active shooter incidents increase, we can take a clear lesson from our military and the "boot camp" concept"
BOCA RATON, Fla. (PRWEB) November 12, 2018
In thinking about our Veterans, perhaps we can take away some valuable lessons on the ways our soldiers are trained and deployed to protect our country. Our businesses can learn from the practices of the military to better deal with the growing safety and security threats we are seeing in the workplace.
How do you train employees to respond to situations that are risky to a business?
If we think about an "active shooter" incident in a workplace, most businesses have no plan and there has been no training. Without training and preparation, the result will be chaos and complete disorder and confusion.
Eight Ways Businesses Can Improve Security:
1. Provide basic "boot camp" type training to all employees on the biggest risk to the business.
2. Insure that the training is ongoing and adapts to the current risk to the organization and employees.
3. Think about ways to change employee behavior to encourage them to think about security as part of their daily common practice.
4. Think about ways to overcome normal human behavior and train employees on the safest way to handle incidents.
5. Give employees the proper tools to make smarter decisions on the risk facing the business.
6. Conduct drills that train and educate employees on the biggest risk.
7. Work as a team with your employees to ensure that everyone knows the risk and their role in the process. Train as a team and stress teamwork as part of your normal business practices.
8. Physical and cyber security risk go hand in hand. Employees are frequently on social media sites as friends. Employees need to understand the importance of reporting suspicious post by co-workers that may identify that a workplace violence attack is pending.
About the Center for Information Security Awareness (CFISA)
The Center for Information Security Awareness was formed in 2007 by a group of leading academics, security experts, and fraud experts to explore ways to increase security awareness among consumers, employees, businesses, and law enforcement. CFISA provides online and on-site cyber security awareness training throughout the year via its "Security Awareness Training Made Simple" program.
CFISA was founded by Michael Levin who spent over twenty-two years in the U.S. Secret Service protecting Presidents and Heads of State. Michael retired from the U.S. Department of Homeland Security - as the Deputy Director of the National Cyber Security Division in Washington DC.
CFISA currently has a diverse blend of customers using their valuable training. These include:

Federal, state and local government agencies
Colleges and universities
Small, medium and large enterprises
Financial institutions
Those who are interested in learning more can call today at (561) 325-6050 or visit the website at https://www.cfisa.com/. The mailing address is PO Box 810961, Boca Raton, FL 33481.