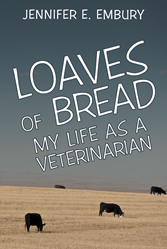 BRANDFORD, Fla. (PRWEB) January 16, 2023
Veterinarian and author, Jennifer E. Embury, chronicles her journey to veterinary medicine in her newest book, "Loaves of Bread: My Life as a Veterinarian."
In this memoir, Embury explores how she found success, despite an interwoven cycle of child abuse, drug addiction, codependency, and domestic violence. She also discusses how counseling, combined with her deep relationship with Jesus Christ, allowed her to heal.
"God gave me a deep love of science and animals," Embury said. "He knew I would be able to use it as an anchor and a life raft to navigate my way across the tempestuous seas of my life."
"Loaves of Bread" explores Embury's relationship with her faith, and how she overcame her mental and physical barriers in life to find happiness.
"I've been a practicing veterinarian for 24 years," Embury said. "I became a scientist and a veterinarian because science allowed me to live in a world of perfect order. It protected me from the chaotic world that I lived in during my teens and twenties."
Embury shares her story with the hope of inspiring others who have gone through similar experiences. She wants to show that there is a way out, even when a situation seems hopeless.
"Loaves of Bread: My Life as a Veterinarian"
By Jennifer E. Embury
ISBN: 9781665725651 (softcover); 9781665725637 (electronic)
Available at Archway Publishing, Amazon and Barnes & Noble
About the author
Jennifer E. Embury is a 1998 alumna of University of Florida's College of Veterinary Medicine. She served as assistant professor at UF's College of Medicine and is the author of numerous peer-reviewed articles concerning gene therapy and neuropathology. She recently received her juris doctor degree from Western Michigan University Thomas M. Cooley Law School. She lives in Branford, Fl. She has previously published "A Drink of Water: A Memoir about My Life with Men." To learn more, please visit https://jenniferembury.com/.
###
General Inquiries:
LAVIDGE – Phoenix
Ashley Fletcher
afletcher@lavidge.com