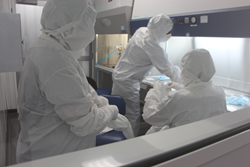 This is a unique opportunity in history to have a profound influence on the development and adoption of a potential game-changing medical technology.
POWAY, Calif. (PRWEB) July 18, 2019
VetStem Biopharma has long been a leader in veterinary stem cell therapy with clinical, regulatory and manufacturing experience. As a result of a two-year research collaboration with Calidi Biotherapeutics, VetStem has signed a worldwide license and development agreement to commercialize the Calidi oncolytic virus platform in veterinary medicine. VetStem should be able to fast-track this cancer therapy for use in dogs due to the advanced stage of its own canine adipose stem cell program. In a patented process, Calidi has discovered how to utilize adipose stem cells as a "Trojan horse" to deliver their promising oncolytic virus therapy. This combination may substantially enhance the cancer-killing ability of the oncolytic virus.
VetStem is also an experienced FDA GMP cell therapy manufacturer. In addition to producing veterinary stem cells, VetStem has contracted with Calidi to provide them with human adipose stem cell lines for their clinical trial program. VetStem CEO, Dr. Robert Harman stated, "We believe that this One Medicine collaboration shows how closely allied human and veterinary medicine are and how together we can more rapidly develop and deliver products to both markets."
Allan Camaisa, CEO of Calidi remarked, "We recognized early on in the collaboration that VetStem's advanced manufacturing capability and experience with stem cell therapy could save an enormous amount of time and resources in the development of human stem cell lines for our program."
VetStem has a broad portfolio of patents and applications in regenerative medicine and now with this license, has access to the Calidi portfolio of patents combining stem cells with oncolytic viruses.
"This is a unique opportunity in history to have a profound influence on the development and adoption of a potential game-changing medical technology," says Dr. Harman. "Regenerative medicine has opened up new possible treatment options for a wide array of conditions that are not effectively treated with today's medicines and now stem cells may play a key role in delivering cutting edge cancer therapy."
VetStem is in the process of raising a final round of capital to complete its FDA-approved pivotal trial for canine osteoarthritis. The collaboration will allow very efficient use of these same stem cells for the newly-licensed cancer program.
About VetStem Biopharma, Inc.
VetStem Biopharma was formed in 2002 to advance regenerative medicine. This privately held biopharmaceutical enterprise, based near San Diego (California), currently offers veterinarians an autologous stem cell processing service (from patients' own fat tissue) among other regenerative modalities. With a unique expertise acquired over the past 15 years and 17,000 patients treated by veterinarians for joint, tendon or ligament issues, VetStem has made regenerative medicine applications a therapeutic reality beyond the realm of research. The Company's stated mission being "to extend and enhance the lives of animals by improving the quality of recovery in acute conditions, but also by unlocking ways to slow, stop and ultimately revert the course of chronic diseases". In addition to its' own portfolio of patents, VetStem holds exclusive global licenses to a portfolio of issued patents in the field of regenerative medicine.