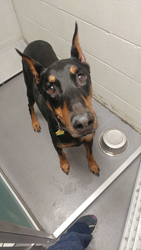 I truly believe Gabby's overall quality of life has improved immensely from this treatment.
(PRWEB) July 17, 2018
Gabby is a ten-year-old Doberman pinscher. In August 2016, Gabby tore her left cruciate ligament and had surgery to repair it. Unfortunately for Gabby and her owner Ann, Gabby's bad luck didn't end there. While recovering from surgery on her left knee, Gabby suffered a partial tear to her right cruciate ligament. Though partial cruciate tears do not always require surgery, it is common for scar tissue and arthritis to form in the affected joint which can lead to future problems with mobility.
Just over one year after she partially tore her right cruciate ligament, Gabby stopped using the leg. In addition to that, Gabby's energy level, alertness, and overall attitude decreased. Her veterinarian, Dr. Jennifer Tate of Sylvania Veterinary Hospital, did not feel that Gabby would benefit from surgical repair as severe arthritis and swelling had already set in. Instead, Dr. Tate recommended VetStem Regenerative Cell Therapy to help reduce the pain and inflammation in Gabby's knee and help to get her using the leg again.
In November 2017, Gabby underwent a minimally invasive procedure in which fat tissue was collected from her abdomen. The tissue was packaged and sent to the VetStem laboratory in Poway, California. VetStem lab technicians processed the fat to extract the stem cells and created injectable doses of Gabby's own stem cells. After quality checks were performed, the doses were shipped back to Dr. Tate who received and injected them approximately 48 hours after the initial fat collection. Gabby received the stem cell injections into each knee joint as well as intravenously.
Gabby's owner reported that a mere five days after the stem cell treatment, she noticed a change in Gabby's alertness. She also noted that Gabby was not limping as severely. At her one month recheck with Dr. Tate, Gabby's energy had increased and she was more willing to play. At the two month recheck, Gabby appeared to have full use of her right rear leg. She was sleeping less and even initiating play with her canine siblings. Three months post stem cell therapy, Gabby was back to her old self. Her owner stated, "I told Dr. Tate that I felt like Gabby was 5 years younger. She barks at me to get up in the morning just so she can play. She runs through the yard. She is able to jump on her hind legs. She even jumped over the ledge that divides my dining room and living room which is about 3 feet high…I truly believe Gabby's overall quality of life has improved immensely from this treatment."
Now, approximately 8 months after Gabby's stem cell therapy, her owner reports that she is still doing well. She continues to run around the yard with her canine siblings and has no problem keeping up with them. Ann stated that you would never know that she had an injured knee and that she's so thankful that she had the procedure done.
Stem cells are regenerative cells that can differentiate into many tissue types; they have been shown to reduce pain and inflammation, help to restore range of motion, and stimulate regeneration of tendon, ligament and joint tissues. In a peer reviewed, blinded study for chronic osteoarthritis of the hip joint in dogs, it was found that dogs experienced decreased lameness and pain after receiving VetStem Cell Therapy.
About Dr. Jennifer Tate, DVM
Dr. Tate received her DVM from the University of Missouri-Columbia in 1995. Her areas of special interested are internal medicine, endoscopy, oncology, and operating the blood bank at Sylvania Veterinary Hospital. She is a proud member of a national veterinary response team (NVRT) which deploys in times of national disasters. In addition, Dr Jen has developed a local disaster animal response team (DART) which covers seventeen counties in Northwest Ohio. She has been VetStem credentialed since April 2017.
About VetStem Biopharma, Inc.
VetStem Biopharma is a veterinarian-lead Company that was formed in 2002 to bring regenerative medicine to the profession. This privately held biopharmaceutical enterprise, based near San Diego (California), currently offers veterinarians an autologous stem cell processing service (from patients' own fat tissue) among other regenerative modalities. With a unique expertise acquired over the past 15 years and 13,000 patients treated by veterinarians for joint, tendon or ligament issues, VetStem has made regenerative medicine applications a therapeutic reality beyond the realm of research. The VetStem team is focused on developing new clinically practical and affordable veterinary solutions that leverage the natural restorative abilities present in all living creatures. The Company's stated mission being "to extend and enhance the lives of animals by improving the quality of recovery in acute conditions, but also by unlocking ways to slow, stop and ultimately revert the course of chronic diseases". In addition to its' own portfolio of patents, VetStem holds exclusive global veterinary licenses to a portfolio of over 70 issued patents in the field of regenerative medicine.