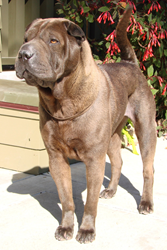 Overall we are so happy with the results and so glad Dr. Hampel recommended the procedure.
POWAY, Calif. (PRWEB) December 11, 2018
Gracie-Allen, a nine-year-old Shar-Pei, slowly developed arthritis in her knees. When she began showing symptoms in November 2017, her owners immediately took her to their veterinarian, Dr. Nancy Hampel of VCA Animal Medical Center of El Cajon. After an examination and X-rays, Dr. Hampel determined that Gracie had mild arthritis in her knees and recommended treatment with VetStem Regenerative Cell Therapy.
Gracie had a dental cleaning scheduled for March 2018 so her owners elected to have fat collected for stem cell therapy while she was already under anesthesia. This approach can be helpful for pets who are older or otherwise not an ideal candidate for anesthesia. Dr. Hampel collected fat from Gracie's abdomen and sent it to the VetStem laboratory in Poway, California. VetStem laboratory technicians processed the fat and extracted the stem cells to create injectable doses of Gracie's own stem and regenerative cells. The injections were sent back to Dr. Hampel who received and injected them within 48 hours of the initial fat collection. Gracie received injections into both knees and also intravenously.
Gracie's owner, Marlene, noticed that Gracie was feeling better a mere three days after her stem cell therapy. They tried to keep Gracie quiet but since she was feeling better, she was jumping on and off the couch and running around the house squeaking her toys. Approximately five months after Gracie received stem cell therapy, Marlene reported that she was still doing well and the difference was very obvious. She noted that Gracie was much more active and happier. Marlene stated, "Overall we are so happy with the results and so glad Dr. Hampel recommended the procedure."
Now, nearly nine months after Gracie's stem cell procedure, Marlene reports that she is still doing great with no indication of any knee problems whatsoever. Marlene stated, "She is doing so well that I want to see a doctor about getting stem cell injections in my knees!"
Stem cells are regenerative cells that can differentiate into many tissue types, reduce pain and inflammation, help to restore range of motion, and stimulate regeneration of tendon, ligament and joint tissues. In a peer-reviewed study of dogs with chronic osteoarthritis of the hip joint, it was found that stem cells reduced lameness and pain.
About Nancy Hampel DVM, DACVS
Dr. Nancy Hampel received her Doctor of Veterinary Medicine from Michigan State University in 1980 and moved into a one year small animal internship at Colorado State University. At the end of the internship, she completed her surgical residency at the University of Illinois. She is the Medical Director at VCA Animal Medical Center of El Cajon and has been credentialed to perform VetStem Regenerative Cell Therapy since 2007.
About VetStem Biopharma, Inc.
VetStem Biopharma is a veterinarian-lead Company that was formed in 2002 to bring regenerative medicine to the profession. This privately held biopharmaceutical enterprise, based near San Diego, California, currently offers veterinarians an autologous stem cell processing service (from patients' own fat tissue) among other regenerative modalities. With a unique expertise acquired over the past 15 years and 17,000 treatments by veterinarians for joint, tendon or ligament issues, VetStem has made regenerative medicine applications a therapeutic reality. The VetStem team is focused on developing new clinically practical and affordable veterinary solutions that leverage the natural restorative abilities present in all living creatures. In addition to its own portfolio of patents, VetStem holds exclusive global veterinary licenses to a large portfolio of issued patents in the field of regenerative medicine.