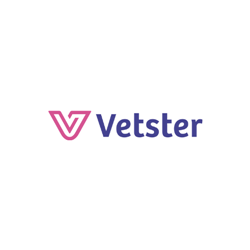 Vetster's telehealth platform and open marketplace approach empowers veterinarians and clinic owners to expand their business in new ways using technology while rising to meet the needs of pet owners everywhere - Mark Bordo, CEO and coFounder, Vetster
TORONTO (PRWEB) September 15, 2021
Vetster™, the world's fastest growing veterinary telehealth and pet care marketplace, today announced that it has been selected as winner of the "Overall Pet HealthCare Company of the Year" award from the 3rd Annual Pet Innovation Awards Program, the industry's most robust recognition platform for the innovators and leaders of the pet industry.
Vetster was created to bring veterinary telehealth to pet owners and improve access to pet health services. Conceived prior to the pandemic, then accelerated by it, Vetster has become the largest and fastest growing veterinary telehealth platform in North America.
The company's web and mobile app make it easy for pet owners to find a licensed veterinarian, book an appointment, and conduct that appointment via video or chat. Vetster veterinarians can help pet owners with a wide range of pet care needs including nutrition, dental care, behavioral changes, parasites, aging, urinary care, skin infections and much more. Where permitted by law, Vetster veterinarians can also diagnose and prescribe medication through the company's new VetsterRxTM Online Pharmacy which ships medications directly to the customer's home in two business days.
Vetster is a complement to in-clinic care, it does not replace it. Rather, for pet owners who want to speak with a veterinarian when an in-clinic appointment isn't necessary, who want to assess whether a trip to urgent care is needed, or for those who are travelling with their pet, Vetster makes it easy to access care at any time, from anywhere.
"We are thrilled to be named Overall Pet HealthCare Company of the Year from Pet Innovation," said Mark Bordo, CEO and coFounder, Vetster. "The veterinary community has been under tremendous pressure to serve the growing number of pet parents and their pets under highly constrained circumstances. Vetster's telehealth platform and open marketplace approach empowers veterinarians and clinic owners to expand their business in new ways using technology while rising to meet the needs of pet owners everywhere."
The mission of the annual Pet Innovation Awards Program is to honor innovation and recognize the excellence, hard work and success in a range of Pet Care industry categories, including Apparel, Grooming & Cleaning, Food & Treats, Health, Housing, Toys, Training, Retailers & Services and more. The 2021 Pet Innovation Awards attracted more than 1,250 nominations from around the world.
"Pet ownership has risen dramatically over the last year as a result of the pandemic. As people have spent more time at home, pet ownership became a natural next step for many people looking for companionship and having more time to care for a pet. This rise in pet ownership has led to the industry growing to nearly $100M in the last year while also putting tremendous pressure on the veterinary community," says Travis Grant, Managing Director, Independent Pet Innovation, "From virtual appointments, triage, and prescription delivery and products, Vetster team delivers a transformative pet care experience. Congratulations on being our choice for 'Overall Pet HealthCare Company of the Year.'"
The Vetster platform offers pet owners access to thousands of veterinarians across the US and Canada. Pet owners love the convenience and high-quality care they receive.
####
About Vetster
Vetster is a veterinary telemedicine marketplace connecting veterinary professionals with pet parents over video, text or audio chat. From the comfort of home, pet parents can access quality virtual care in a matter of minutes, and veterinary professionals can set their own rate and schedule themselves according to personal preferences. Create a free account today at vetster.com
About Pet Innovation
The Pet Independent Innovation Awards program is part of The Independent Innovation Awards program which is devoted to recognizing and honoring only the most innovative companies, services and products. The Pet Independent Innovation Awards provide public recognition for achievements within the rapidly expanding Pet industry. Award winning companies and products include Apparel, Grooming & Cleaning, Food & Treats, Health, Retailers & Services and more.
For more information visit: petinnovationawards.com