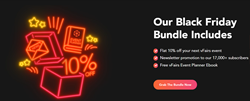 CARROLLTON, Texas (PRWEB) November 08, 2021
vFairs, the world's leading virtual events company, has announced their Black Friday sale starts today and will run through to November 30, 2021. The deal offers an unprecedented 10% off all new customers' first virtual or hybrid events hosted through vFairs. The deal will be applied automatically to all new customers who reach out after November 8th and close before November 30th. Purchased events can be hosted anytime in the next 12 months
Eligible customers will have a chance to take advantage of all vFairs' solutions at a reduced price. Some popular features include, but are not limited to, custom immersive virtual venues, 1:1 or group chat, audio and video calls for dynamic interactions, personalized exhibit booths, live, semi-live and on-demand webinars to boost audience engagement, gamification and more.
Along with the flat 10% off, new customers will receive free promotion of their event in vFairs' email newsletter, and a free copy of their highly sought-after virtual event planning template. No discount codes apply. All new customers who contact vFairs and close before November 30th will automatically receive the deal.
"I am very happy to announce our Black Friday sale," said Muhammad Younas, CEO of vFairs. "I can't wait to give new customers the opportunity to see the value of vFairs at a reduced price point. I'm confident that once a company experiences vFairs, they'll become another of our long-term partners."
To learn more, or get started, visit vFairs.com/black-friday-sale-2021.
About vFairs
vFairs delivers top-class virtual events for all audiences, with an intuitive platform that recreates physical events through an immersive online experience. With a range of powerful features and dedicated support for users around the world, vFairs removes the hassle from organizing, exhibiting at, and attending events such as conferences, trade shows, and career fairs. vFairs is a 2021 leader in the Virtual Event Platforms Category by G2.
Contact the vFairs team to learn more or request a demo to see a virtual event in action or visit http://www.vfairs.com