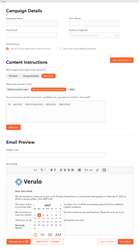 CARROLLTON, Texas (PRWEB) February 17, 2023
Award-winning events technology platform vFairs has announced the first of its kind AI integration with ChatGPT to its platform.
ChatGPT is a chatbot developed by OpenAI that is able to interact in a conversational way as a response to a prompt or question. vFairs is leveraging it to further enhance its event marketing and promotion product offerings.
An AI-enabled email builder is the first step towards vFairs' move towards AI inclusion in its products. With this integration, vFairs aims to help event organizers and marketers improve productivity, reduce the costs and time it takes for creating successful event marketing campaigns.
Creating impactful content with the vFairs platform will become an even more intuitive and convenient process with the GPT3 language model integration.
"I'm thrilled that vFairs is the first events platform to integrate with ChatGPT and there are more promising updates in the pipeline. AI will change the way event marketers work, and this update signals our first step toward that," commented Muhammad Younas, CEO of vFairs.
As a starting point, the events platform is focusing on making event marketing a breeze for event organizers with the use of AI.This will be followed by a wide range of integrations for simplifying writing social media posts, landing pages, speaker bios, press releases and more.
About vFairs
vFairs is a virtual, hybrid & in-person events platform that helps organizations of all sizes, industries, and regions conduct memorable online events to achieve real business results. The virtual platform and mobile app offer versatile features and customization options. They also offer exceptional customer support consistently rated #1 on third-party sites like G2 and Capterra. This is why top organizations around the world have chosen vFairs to host Virtual Conferences, Online Trade Shows, Job Fairs, Virtual Training & more.