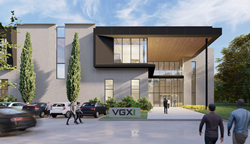 Today represents a major milestone in VGXI's mission-driven commitment to revolutionize the global pharmaceutical community by providing the highest quality DNA products and services.
THE WOODLANDS, Texas (PRWEB) November 10, 2020
VGXI, a highly regarded CDMO supporting the gene therapy and DNA vaccine industries, held a groundbreaking ceremony on November 10, 2020 for its new greenfield manufacturing facility. The milestone event was hosted by VGXI in accordance with CDC COVID-19 guidelines, with attendance limited to select members of the company's executive and leadership teams, along with representatives from the City of Conroe and other key project members and collaborators. Dignitaries in attendance included U.S. Congressman Kevin Brady, Consul General Myungsoo Ahn of the Consulate General of the Republic of Korea in Houston, and City of Conroe Mayor Pro Tem Duke Coon.
"Today represents a major milestone in VGXI's mission-driven commitment to revolutionize the global pharmaceutical community by providing the highest quality DNA products and services," shared VGXI CEO Young Park. "This bold new frontier in medicinal therapy holds endless possibilities for patient treatment. VGXI is extremely proud of all this day represents for the company and the future of DNA immunotherapy and similar gene-based therapies."
The initial phase of the project will quintuple the company's current production capacity. Located in Deison Technology Park in Conroe, TX, the new headquarters will have two levels providing much needed space for laboratories, purification, filling, packaging, warehousing, and process support. It will also provide measurable office and conference space with associated amenities to accommodate VGXI's recent and future growth.
Multiple manufacturing trains and production suites will be incorporated into this initial phase of construction with flexibility provided to support a wide range of biopharma projects from early clinical trials through commercial supply production. The facility will also include micro-processing suites for small-scale projects and dedicated suites to support cGMP DNA- and RNA-based biopharmaceutical manufacturing at all phases of development.
"Long hours have been invested by the entire project team over the past 9 months to get us to this milestone," stated VGXI Chief Operating Officer Dorothy Peterson. "I am grateful for the commitment and responsiveness of our many key project team members; for their willingness and flexibility to accommodate the smallest of details during the design phase to ensure this new facility will be both innovative and fully optimized."
BE&K Building Group is the design-builder of record, in partnership with architectural partner Hanbury and engineering partner Hipp Engineering & Consulting.
"BE&K Building Group is proud to be partnering with VGXI and our team members to produce this state-of-the-art facility," said BE&K Building Group President and CEO Frank Holley. "Never before has the need for revolutionary therapies and vaccines been greater. As a design-builder, BE&K is honored that we can contribute in a meaningful way to the long-term health of our global community."
Substantial completion of the new facility is targeted for the fourth quarter of 2021 with the initial phase of the facility expected to be operational in the first quarter of 2022.
ABOUT VGXI, INC.
VGXI, Inc. is a leading provider of manufacturing and development services for DNA vaccines and gene therapies. The company has a reputation of success in manufacturing DNA products under cGMP conditions for clinical trials in the US, EU, Asia, Canada, and Australia, and its cGMP and non-GMP products have passed rigorous reviews by several international regulatory agencies. VGXI's ability to work with unique requirements and create custom manufacturing solutions is based on its patented manufacturing process, flexible cGMP production facility, and experienced development team. VGXI, Inc. is a wholly-owned subsidiary CDMO of GeneOne Life Science, Inc. To learn more or request a quote, visit https://www.vgxii.com.
ABOUT GENEONE LIFE SCIENCE
GeneOne Life Science Inc. ("GeneOne" KOSPI: 011000) is an international DNA vaccine and product developer, and leading contract manufacturer of DNA plasmid-based agents for pre-clinical and clinical trials for global companies and institutions. It researches and develops DNA vaccines and products to prevent and treat incurable diseases in South Korea and internationally. The company is headquartered in Seoul, South Korea. VGXI, Inc., GeneOne's wholly-owned manufacturing subsidiary located in Texas, is the largest pure-play cGMP DNA plasmid manufacturing facility in the world. For more information, visit http://www.genels.com.
ABOUT BE&K BUILDING GROUP
BE&K Building Group is an integrated construction services company serving pharmaceutical + biotechnology, advanced manufacturing + distribution, healthcare, and additional select commercial markets for more than 50 years. The company provides services nationwide through its operations in Houston, Chicago, and the Carolinas. A full range of services is offered including design-build, construction management, preconstruction, and client advisory/consulting. Additional information is available at https://bekbg.com.
CAUTIONARY FACTORS THAT MAY AFFECT FUTURE RESULTS
Materials in this press release contain information that includes or is based upon forward-looking statements within the meaning of the Securities Litigation Reform Act of 1995. Forward-looking statements relate to expectations or forecasts of future events. These statements can be identified by the fact that they do not relate strictly to historical or current facts. They include words such as "anticipate," "estimate," "expect," "project," "intend," "plan," "believe," and other words and terms of similar meaning in connection with a discussion of potential future events, circumstances or future operating or financial performance. In particular, these include statements relating to future actions, prospective products or product approvals, future performance or results of current and anticipated products, sales efforts, expenses, the outcome of contingencies such as legal proceedings, and financial results. Any or all of our forward-looking statements here or in other publications may turn out to be incorrect. They can be affected by inaccurate assumptions or by known or unknown risks and uncertainties. Many such factors will be important in determining our actual future results. Consequently, no forward-looking statement can be guaranteed, and forward-looking statements may be adversely affected by factors, including general market conditions, competitive product development, product availability, current and future branded and generic competition, federal and state regulations and legislation, manufacturing issues, timing of the elimination of trade buying, patent positions, litigations and investigations. Our actual results may vary materially, and there are no guarantees about the performance or valuation of GeneOne stock. It is also important to read the disclosure notice contained in many of the individual GeneOne documents available on the website, as many contain important information on such cautionary factors as of the date of the individual document. We undertake no obligation to correct or update any forward-looking statements, whether as a result of new information, future events or otherwise. You are advised, however, to consult any further disclosures we make on related subjects in our reports.-