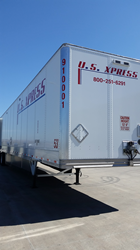 vHub presents an opportunity to find users to reposition equipment and eliminate the cost of moving trailers back into our network
MONTREAL (PRWEB) September 23, 2020
vHub, a collaborative trailer repositioning and sharing marketplace, today announced that Chattanooga, Tenn.-based U.S. Xpress, Inc., one of the largest truckload carriers by revenue in the U.S. and a subsidiary of U.S. Xpress Enterprises, Inc. (NYSE: USX), is adding its trailers to the vHub platform.
"We are constantly repositioning equipment to provide efficient and reliable service to customers," said Joe Pricer, VP, OTR Operations for U.S. Xpress. "vHub presents an opportunity to find users to reposition equipment and eliminate the cost of moving trailers back into our network."
vHub is a growing community with over 40,000 registered trailers that turns unused trailers into revenue generating equipment by making them available to short term users in a secure, trusted, digital platform. In the online vHub platform search results can be sorted by location, routes and destinations, and the number of rental days that a trailer is needed or available. vHub creates a legally binding rental contract, handles invoicing and payments, and transfers rental funds to trailer owners.
"The U.S. Xpress support of our platform illustrates how valuable it can be for the trucking industry," said Francis Roy, vice president of vHub. "vHub is improving trailer utilization by effectively repositioning units where they are needed and saving owners from the expense of empty miles. With vHub, trailer owners also have an opportunity to generate revenue by choosing to make excess and idle trailers available to rent. Efficiently moving freight is how U.S. Xpress improves profitability so we are pleased they have chosen vHub to help with that effort."
About U.S. Xpress
U.S. Xpress, Inc., a division of U.S. Xpress Enterprises, Inc. (NYSE: USX), is one of the nation's largest asset-based truckload carriers, offering customers dedicated, brokerage and over-the-road services. We offer customers a broad portfolio of services using our own truckload fleet and third‐party carriers through our non‐asset‐based truck brokerage network. Our modern fleet of tractors is backed up by a team of committed professionals whose focus lies squarely on meeting the needs of our customers and our drivers.
About vHub
vHub is a trailer repositioning and sharing marketplace that matches trailer owners and rental and leasing operations with those needing to use a trailer on a short-term basis. The secure and simple-to-use marketplace generates revenue and cost savings by enabling the rental of empty or idle trailers for freight hauling or repositioning. A subsidiary of Finloc 2000 Inc, vHub is backed by more than 40 years of experience in the trucking and financial services industries. For more information, visit http://www.vhubapp.com.