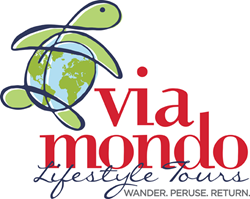 Lifestyle Tours
Syracuse, NY (PRWEB) October 08, 2014
Via Mondo Lifestyle Tours are unlike any other. Designed to enrich the overall travel experience, Via Mondo sets out to deepen the traveler's connection with the destination in a way that other tours do not.
The difference is in the name—"lifestyle tours". These tours offer vacationers personal, hands on experience and guidance while still leaving room for flexibility. The goal is to present guests with an opportunity to become familiar with the lifestyle of a particular area and entirely immerse themselves into its way of life.
This emphasis on lifestyle is the foundation that Via Mondo is built upon. Our tours follow four core components to maintain this refreshing excellence that sets us apart from the rest. First, there are the days kept for free adventures. Via Mondo promises ample personal time to explore the wonders of an area at your own pace. Our expert guides and informed staff are always available with encouragement that will help you effortlessly wander. Next, the activities we do offer are spectacular and unique. We take precise care to provide quality activities that will deepen your overall involvement. Outings tailored around local customs, traditions, and events will magnify your cultural experience. Furthermore, Via Mondo offers the chance to connect. Each tour reserves time to assist a local organization that is uniquely significant to the area. Breaking down cultural barriers gives you unmatchable insight into the people and the region while concurrently fostering lifelong friendships and memories. Lastly, Via Mondo embraces wellness. Travel can be demanding, and we believe the mind, body and spirit need time to truly embrace new environments. Yoga or a peaceful walk is offered most mornings for those interested as a chance to reflect on each day's experience and prepare for each new surprise.
Wander. Peruse. Return. Find out more at http://www.viamondo.net.
Contact us — Rosemary
Please call/email us with any questions, comments, concerns—or just to chat!
Telephone: 855-268-3663
Email: info(at)viamondo(dot)net