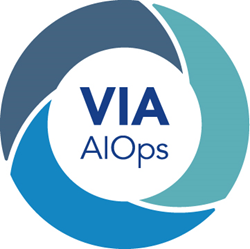 With the VIA AIOps application we have been able to implement a true experience-first, service oriented approach to operations.The results have been reduced response and restoration times, reduced customer support calls and a quantifiable increase in customer satisfaction.
MENLO PARK, Calif. (PRWEB) June 23, 2020
Vitria today announced the evolution of their Digital Operations suite with the VIA AIOps Application, which enables reliable automation across all layers of service delivery to improve the customer experience and optimize operations.
Customer experience is the ultimate measure of successful digital transformation — the VIA AIOps Application assures service delivery experience across today's large and most complex ecosystems. The challenge operators face is siloed with noisy monitoring tools that tell them plenty about what is broken, but almost nothing about why and the potential impact to customer experience. In order to stay ahead of customer-impacting issues, operations teams need to leverage automation made available by digital transformation, but first need to separate root cause from symptoms, build trust in the analysis and then understand the potentially impacted population. However, lack of visibility across the entire service delivery ecosystem and 'black box' analytics can mask the real cause and make automation ineffective or even dangerous. To fully benefit from their investment in digital transformation, enterprises need less noisy monitoring tools and more comprehensive AIOps applications.
Today, Vitria is introducing VIA AIOps delivering a value multiplier that leverages all the data coming directly from sources or events from existing monitoring tools across the application, network and infrastructure layers in service delivery. VIA AIOps goes beyond traditional AIOps solutions by cross correlating this data with customer experience markers and change management events to provide the complete analysis needed for incident lifecycle automation.
"Today, we bring to market a comprehensive AIOps Application that helps enterprises accelerate their pace of innovation," said Chris Menier, GM Digital Transformation, VIA AIOps. "Automating the incident lifecycle can maximize the customer experience while optimizing operations. VIA is the only AIOps application in the market that provides total ecosystem observability and explanatory analytics to assure the service experience."
VIA AIOps
Is a next generation AIOps application that improves customer experience by providing total Ecosystem Observability, Explanatory AI, and Experience Assurance.
Total Ecosystem Observability—learns dependencies and generates an ontology across all layers of service delivery including application, network and infrastructure performance, as well as customer experience markers and change management events.
Explanatory AI—delivers advanced analytics and machine learning to accurately detect anomalies and determine what is the cause, what is symptomatic, and what customer populations are impacted with visual explanations of all analysis and actions.
Experience Assurance—remedial actions can be automated and customer-affecting issues can be predicted and acted upon prior to customer impact.
Learn More: Bridge CX to Service Operations
About Us
Move from Analyzing Data to Automating Actions. VIA AIOps enables reliable automation by correlating data and events across all layers of service delivery to improve the customer experience and optimize operations. Automation minimizes the incident-to-response lifecycle and overall service and customer impact. VIA AIOps provides total ecosystem observability, and explanatory AI to increase confidence in automation and speed up operationalization. Using VIA AIOps provides experience assurance to your customers — know and act on problems before your customers do.