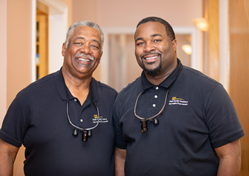 What dental implants do is allow you to maintain the space without losing any more teeth.
Vicksburg, MS (PRWEB) November 22, 2019
Respected dentists in Vicksburg, MS, Drs. Kenneth and Jonathan Nash, complete the fourth and final session of the Implant Dentistry Continuum™. This comprehensive continuing education course provides in-depth lectures and hands-on courses for attendees covering all aspects of dental implants. The dentists at Nash Family Dentistry offer full-service dental implant treatment, both placing and restoring implants for patients who have missing teeth.
The Implant Dentistry Continuum is a four-session course held in multiple cities across the United States. The final course was taken by Dr. Kenneth Nash in Atlanta, GA and by Dr. Jonathan Nash in Nashville, TN. This fourth session focused on patient acceptance and acquisition, who to treat and why, as well as implant complications. Both doctors will participate in a two-day, live patient, hands-on experience follow-up to the continuum. This follow-up course will be held on January 16-18, 2020 in Santo Domingo, Dominican Republic. By attending this continuum, both dentists are able to provide better dental implant care for patients in their Vicksburg, MS office.
"Implants help to maintain the bone in the area where the tooth is missing. What dental implants do is allow you to maintain the space without losing any more teeth," says Dr. Jonathan Nash. "An implant is just a titanium screw that fits into the space of a missing tooth. After the bone has healed, we restore the implant by placing an abutment and crown over top."
A dental implant is an effective solution for tooth replacement. Composed of a titanium post inserted into the jaw and a lifelike crown restoration, dental implants restore both function and appearance to the smile. As a surgical procedure, dentists must perform the treatment with precision and care. Once placed and restored, patients can eat, chew, smile and speak with confidence. With proper care, dental implants can last a patient the rest of their life.
Nash Family Dentistry offers patients comprehensive dental care, including advanced dental implant placement and restoration. The practice also offers bone grafting and tooth extraction to help a patient qualify for dental implants. The dentists believe in staying up to date with advanced technology to offer patients the best possible care. With laser dentistry, the doctors can treat gum disease, soft tissue concerns, and TMJ problems virtually painlessly.
Those interested in learning more about dental implants or other services offered at Nash Family Dentistry are encouraged to contact the dentists in Vicksburg, MS to schedule a consultation. The practice can be reached by calling 601-634-1812 or visiting http://www.vicksburgdentist.com.
About the Dentists
Nash Family Dentistry is a general practice offering personalized dental care for patients in Vicksburg, MS. Dr. Kenneth Nash, Dr. Jonathan Nash and their team provide patients with the latest in dental technology in a comfortable and welcoming environment. Drs. Nash offer a variety of services including laser dentistry, dental implants, and cosmetic dentistry services, among others. To learn more about the services offered at Nash Family Dentistry please visit the website at http://www.vicksburgdentist.com or call 601-634-1812 to schedule an appointment.