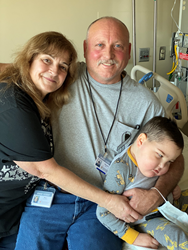 If there were a stronger word than urgent, it should be applied to finding a cure to DIPG...
AGUA DULCE, Calif. (PRWEB) December 07, 2020
The end of the 116th Congress approaches quickly as childhood cancer advocates are anxious to see H. Res. 114, the DIPG Awareness Resolution in the House of Representatives finally get a vote. The marginalization of childhood cancer research is not well understood by the general public, nor fully by Congress, but is eaten, slept, and breathed by parents of the afflicted. In the case of pediatric brain cancer, the most prevalent and deadly form of childhood cancer, nowhere is the unseen, unheard suffering and loss and neglect so strongly exemplified as with DIPG, diffuse intrinsic pontine glioma.
H. Res. 114, the National DIPG Awareness Resolution, known as #Moonshot4kids, is an attempt to sound the alarm to attract financial and scientific help more quickly to the space, to save lives and to alert the public to this largely unknown, but extremely deadly, quantity. It shines a national spotlight on an issue of terrible human suffering which has remained in obscurity for decades. Hundreds of children with DIPG across the United States right now are dying a cruel death in full cognitive awareness as they become entombed in their increasingly paralyzed bodies; in 2020, there is nowhere in the world you can take your child to save them. With a less than 1% long-term survival rate, there's been no change in the standard treatment protocol for DIPG since 1962 when Neil Armstrong's 2 year old daughter died of it, yet we put men on the moon and returned them safely in 1969--a testament to the power of national attention and resolve.
Janet Demeter, President of Jack's Angels Foundation in California and organizer of DIPG Advocacy Group, a national coalition of parents and pediatric brain cancer foundations advocating for these children on Capitol Hill, has been fighting for the Resolution's passage since early 2016. "We are a small group largely unknown for the most part until this year when we were granted a Congressional briefing after requesting on behalf of Jace Ward, a pre-law student from Wamego KS, willing and able to speak to the DIPG experience for thousands of children who never had the chance."
Although quickly overshadowed by Covid-19, "DIPG, Pediatric Brain Cancer and the Importance of H. Res. 114", or "#Moonshot4Kids Congressional Briefing" on Feb. 13, 2020 in Washington DC, brought together scientists from all over the world and NIH with philanthropists, industry leaders, patients and their families to shine a hopeful spotlight on this issue, and as a result a novel NIH SPORE Grant proposal has been submitted in late September by the Pacific Pediatric Neuro-Oncology Constorium (PNOC), setting a precedent for multi-institutional collaboration and a focus on pediatric brain cancer research. All parties at the briefing made a powerful case for the adoption of H. Res. 114, as stated by CEO of the National Brain Tumor Society David Arons, "If there were a stronger word than urgent, it should be applied to finding a cure to DIPG...We urge Congress to pass the DIPG Resolution, and elevate DIPG on the congressional priority list."
Jace Ward was the final speaker on the panel, warning the audience of Congressional staff that, "I can't promise I'll be back here next year. Which is exactly why I respectfully ask you to co-sponsor House Res. 114 before you leave for the weekend. DIPG won't wait until this is convenient, DIPG won't wait until we are ready. While we have been 'waiting' to take a solid stand, DIPG has been taking the sight, the hearing, the speech, the ability to swallow and eventually the breath of thousands of kids across this country." Jace has also spoken before panels at the NIH and other important scientific, philanthropic and industry platforms to encourage greater collaboration and awareness to the urgency of the need for a cure, working in concert with DragonMaster Foundation and others to provide critical support for clinical trials for DIPG. The Briefing was sponsored and produced by Jack's Angels Foundation, Smashing Walnuts Foundation, and the Michael Mosier Defeat DIPG Foundation, also producing "The State of DIPG Summit," coordinated by patient advocate and parent, Lisa Ward, Jace's mother.
After several months and nearly half of the House of Representatives signed on to the bi-partisan Resolution, there has been no response to the urgent requests from affected constituents to the Speaker's office, or the Majority Leaders Office to allow scheduling for this Resolution, to allow its inclusion in the important measures Congress is considering. H. Res. 114 is a simple House Resolution and does not require Senate approval or a Presidential signature. It suggests that children and the dying have elevated consideration for research funding, and that federal support for childhood cancer research be increased. DIPG Advocacy Group is appealing to the public to help get the message to House Leadership that this voiceless and vulnerable population ought not be dismissed as we move forward with a comprehensive package, with the "Letters to the Speaker" campaign at dipgadvocacy.org.
"All we're asking for is a day, not money," notes Paul Miller, childhood cancer advocate from Littleton CO and co-founder of DIPG advocacy group. "It's sad that they would dismiss something so easy to do, which could bring so much good to America's children facing the #1 disease-related killer of children. I just don't understand it." The also designates May 17, as now some 33 states recognize due to the partnership and work of the Michael Mosier Defeat DIPG Foundation in Bethesda, MD, as an awareness day to help educate about brain tumors, the most prevalent form of childhood cancer, which is often mis-diagnosed or discovered at autopsy, and of course to attract greater financial and scientific support. Jenny Mosier, CEO, noted at the briefing that, "although H. Res. 114 alone will not cure DIPG, recognition by our Federal Government matters," in facilitating the discovery process.
"When we talk about DIPG we're talking about brain tumors, which most people don't think of with childhood cancer. It's the scary pink elephant in the room that no one wants to talk about. But with awareness, recognizing symptoms and getting access to appropriate diagnostics, which insurance companies can make very difficult, we could save lives today," notes Elizabeth Psar, President of Julia Barbara Foundation in Knoxville, TN, and co-founder of the group.
The greatly anticipated YouTube debut of "The Promise," a docuseries for Childhood Cancer by Risk It Productions, LLC will consist of five episodes in succession at 7pm EST, beginning Monday Dec. 7 through Friday Dec. 11, on Youtube. Following these at 8pm, beginning Tuesday, Dec. 8, DIPG Advocacy Group will stream video presentations airing Dec. 8 - 11 at 8pm EST on Youtube and the Facebook page for Childhood Cancer Talk Radio (TogiNet Radio, Tyler TX). Included in the line-up will be the #Moonshot4Kids Feb. 13, 2020 Briefing video, updated, and a final plea from the community for the passage of H. Res. 114.
With the hashtags #DIPG, #Moonshot4Kids, and #DIPGwontwait, many individual videos from DIPG families are being shared singularly by the group on Twitter and Facebook during the final weeks of this session of Congress to get the word out and to raise awareness for the terrible reality facing these children and their families. These include Jace Ward, now facing an uncertain future, asking once more for consideration from the House of Representatives to pass the Resolution. Notably Cassie Diaz (Bronx, NY) describes in real-time the struggle of her 6 year old son Jayce. Also notable is Howard Salmon (Anderson, CA), professional truck driver, vying for his young son Liam now in the frightening progression stage of DIPG, facing death, pleading for this simple House Resolution to be passed.
Information and updates can be found at dipgadvocacy.org.