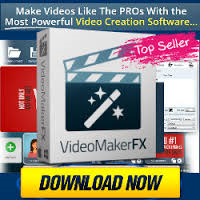 Regardless, Video Maker FX provides an affordable solution for anyone to be able to create professional videos
Vancouver, WA (PRWEB) August 18, 2014
Video Maker FX has proven that it's solid software build will service customers for years to come, and has also raised the video creation software market bar to new standards.
YouTube is an example of how the video has been successful and the popularity of the website is growing. Many of the top companies have launched videos to demonstrate goods and services. "We need to show people how our products work.
Video Maker FX is a tool that allows people to create special effects, graphics, and animation, even without previous editing experience.
"This is a very user friendly product," announces one of the creators of the video creation software. "We are responding to the demand of content creation to help with online marketing."
The company explains that the video content charges by companies are considerable. The software allows people to create their own videos for the purpose of marketing. It can also provide a means for content creators to create and sell videos to other companies as a means of profiting.
"We have found that some companies won't create their own videos no matter how easy it is," Comments one designer. "Regardless, Video Maker FX provides an affordable solution for anyone to be able to create professional videos." The Video Maker FX reviews have been positive around the internet.
People have been showing off what they can do with the software. It doesn't require hours of instruction and the software website features an introductory video that demonstrates how to use the software. "I have finally found a program that lets me create amazing videos so that I can market myself more effectively," says John, owner of an online business.
"These videos have changed the way that I am able to convert more visitors into customers."
The average video can be produced in an afternoon using the software. There is also a library of royalty free music that comes with the software, enabling people to add a soundtrack without worry of legalities. There is also no monthly fees, limits to the videos that can be produced, or a watermark.
Additionally, a 30-day full refund is in place for customers as a guarantee. Additional information about the video editing software can be explored on the company site at Video Maker FX.
Related Article:
Video Maker Fx Offers Powerful New Video Creation Tool for Online Marketers