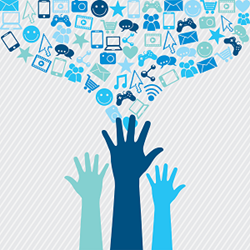 Videos are a proven method to increase customer engagement with a product.
Calgary, AB (PRWEB) March 21, 2014
Gratitude Consulting Group Inc. is now integrating video production to optimize a client's digital presence. Every company should take advantage of video marketing because it offers a method to leverage their expertise in a compelling fashion. Videos posted on the web and business sites help customers interact and engage with a company's product.
Gratitude Consulting, founded by Sherri Beauchamp, has created a successful international team that brings quality and originality to every client's project. They use everyday situations to build a connection between a business and its customers using real people, sharing real stories. They offer video marketing because it can be used to explain a product in an innovative way using the charisma and personality of the business; a way to show the company's mission by using the company culture. Sherri and the Gratitude Consulting team, focus on a client's business vision, while working to learn and grow together. They strive to achieve the highest impact with sharp business consulting tactics by utilizing digital media.
Videos are a proven method to increase customer engagement with a product. Customers can interact with the site by using video, and they will listen as well as see what the product has to offer. Consumers like dynamic content, so they will watch a video, and are more likely to purchase an offering than if there is no video present. Companies should utilize the ability to post videos because content is shared by friends, and videos are heavily shared, and more than 80% of users buy based on word-of-mouth. Social media and video campaigns are booming, partially because video empowers viewers to share, and if the content is good they will feel compelled.
The Gratitude Group's video marketing and editing team can help script, edit and produce videos for a company that will convert users by leaving a lasting impression. They know how to create a strong impact with your message, because they have done their research to get the most of digital media marketing. The Gratitude team can capitalize on the opportunity to connect a company with their customers by using a voice and/or the face of the company.
Consumers are searching for the products and services that you offer, and using video marketing to take advantage of the search engine strategy is a smart plan. Social media can affect a Google search result, and that will make an entry point into a company's website, microsite, and/or promo page. YouTube is the second-largest search engine, which can translate into your company videos getting ranked higher in Google results.
So, companies should be making ads, promos, branded entertainment, web series, video blogs, knee-slapping viral videos, videos of your store cat, etc. to get in on the advertising action. Gratitude Consulting Group can help companies discover and design whatever style and format will best resonate with their customers. People love to make comments on videos, and this is one avenue to learn more about what customers want and need. This gives a company the opportunity to redirect their efforts tailored to their customer demographic, which makes for a more successful business.
Digital media and videos have evened out the playing field for brands, business, and organizations to compete in an industry. There can be advantages for bigger companies to have larger budgets, but that doesn't mean they are using the money wisely. The Gratitude Group can direct your video media to its best advantage. Success is the ability to be more creative with better targeting, so that companies can move more product with potential and existing customers. Video marketing can take your business to the next level.
About Gratitude Consulting Group:
Operating out of Calgary and Edmonton, Gratitude Consulting Group INC started after Sherri Beauchamp (Founder) had a vision of impacting and inspiring businesses and experts not only to leverage their expertise to change people's lives but to actually make an impact on the world. Their focus as a group is to bring all of the available moving parts to a business and leverage them in a way that's unique to their specific goals and helps spread the company's message to the people who need it the most.
Related News:

Related Search Phrases:
[Consulting Services] [Gratitude Consulting Group] [Google Trending] [Breaking News] [Business Consulting] [Small Business Consulting] [Reputation Marketing] [Digital Publishing] [Video Marketing]
Related Hashtags:
#Consulting #GoogleTrending #BreakingNews #Marketing #Business #Reputation #Online #Brand #Gratitude #Happiness #Publishing #Digital #Video
###
Gratitude Consulting Inc. is located in Calgary, AB T3K 4Z2 Canada. Sherri Beauchamp and her team can be contacted at GratitudeConsulting.com email: Info(at)GratitudeConsulting(dot)com; phone (587) 333-0170