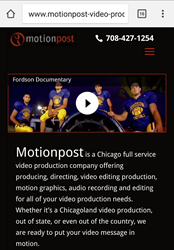 MOVING YOUR MESSAGE
Chicago, IL (PRWEB) January 20, 2017
Motionpost is a video production company that provides video producing, editing, directing, audio recording and motion graphics for everything from corporate videos to commercials. Recently Proceed Innovative redesigned the website for Motionpost as part of their digital marketing campaign to update the look of the website and implement a design that is more user friendly, SEO friendly, and responsive to mobile devices. Proceed Innovative is an SEO marketing agency that provides web design services and the new design for Motionpost was built with SEO principles in mind to help improve searchability and attract more organic traffic.
The new website for motionpost-video-production.com has an updated design that improves the user experience with better navigation that makes it easier for users to find their specific service pages and video demos. A drop down menu on the top navigation allows users to go directly to one of several service pages that feature multiple examples of specific types of videos they have produced for their clients. The biggest improvement to the design of the Motionpost website is the responsiveness that allows it to adjust and display properly on mobile devices. More people search the internet on their smartphone or mobile device than on computers and the new mobile responsive design allows mobile users full use of the site.
About Motionpost
Motionpost provides full video production services in the Chicago area that include producing, editing, directing, motion graphics, and audio recording. They produce several different types of videos for a range of clients including corporate videos, marketing videos, product videos, commercials, and event videos. They have a professional staff of videographers, editors, and producers that take pride in video production. Motionpost is committed to helping companies and organizations put their message to video. Contact Motionpost at (708) 427-1254 or visit motionpost-video-production.com to learn more.
About Proceed Innovative
Proceed Innovative is a full-service internet marketing and web design agency that provides a range of search engine marketing (SEM) services including search engine optimization (SEO), pay per click (PPC) management, web design, and lead generation. Through proven SEO and internet marketing strategies, they help boost the organic traffic to their clients' website to help build their brand and improve their online visibility. Their web design services help improve the ROI of a website by making it more searchable, user friendly, and mobile responsive. Call Proceed Innovative at (800) 933-2402 or visit proceedinnovative.com to learn more.