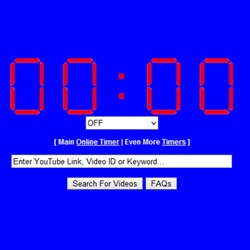 Although the Video Timer is designed to be truly useful, it is also designed to be fun and easy to use.
(PRWEB) August 22, 2013
OnlineClock.net has just announced that they've added a Video Timer to their repertoire of online clocks and timing devices. The timer located at http://timer.onlineclock.net/video/ allows users to activate a video as an alarm. It is compatible with YouTube, and serves as a reliable audio and visual reminder for any of life's daily events. It is likely the first online timer to ever use video and sound for an alarm.
OnlineClock.net is owned and operated by Mr. Tom Churm. When asked about his new video alarm, Mr. Churm said, "As with most things associated with my site, there is a lot of potential for humor and irony connected to this type of alarm. Although the Video Timer is designed to be truly useful, it is also designed to be fun and easy to use."
Visitors to OnlineClock.net will find that it is a fun and interesting site to explore. It has an abundance of creative ways to remind people when to stop or start an activity. For example, a recreational chef might use the video timer to play one of the many hilarious imitations of Julia Child as an alarm. One particular imitation that comes to mind is Dan Aykroyd's rendition of Julia Child's 1970s cooking show. The video can be found on YouTube, and it would be a fun way to remind a cook that their chicken is ready to remove from the oven!
There are as many humorous and fun ways to use the Video Timer as there are videos on YouTube! One parent told Churm that they used a popular video depicting a baby who abruptly wakes up from her nap to begin dancing to the song Gangnam Style with this new timer. Imagine waking up to that every morning! Using a light-hearted video as a reminder to do something for someone else is a nice way to brighten up the day.
The Video Timer would also be an excellent tool to use in conjunction with timed tests in schools. It would be a very effective way for teachers to get their students to stop writing and to pay attention. The latest viral video is sure to get any child's attention, and is a good way for a teacher to relate to their students' age group.
OnlineClock.net has many other features that can help enhance people's moods and make their days easier. The Moods Clock on the site can be used to play soothing sounds just before the user goes to sleep. The sounds play in an endless loop and then change to an alarm when it's time for the user to wake up. This helps people to sleep through the night, without having to worry about not hearing their alarm or waking up late.
Churm indicated that another pleasant aspect to this website is that it is not overburdened with advertising. "Excessive ads can make any website difficult to operate. By limiting the amount of advertisements on the website I have made it easy and safe to navigate."
Over the years, this website has grown in popularity. It now receives millions of visitors each month. The video timer will undoubtedly help to continue attracting even more visitors to the world's original Online Clock website. Using the Video Timer as a way to sound an alarm could be the perfect ingredient to spice up an otherwise boring day.
About OnlineClock.net
OnlineClock.net has been online since March, 2006, and is the world's first Online Alarm Clock website. Tom Churm, the creator of the site, strives to make the most simple and useful online time tools available. For more information on their various online clocks and the fun ways to use them, please visit http://onlineclock.net/about/press/