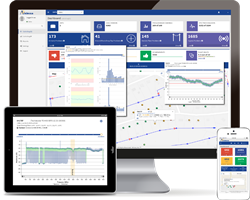 PARKER, Colo. (PRWEB) October 19, 2020
Akleza, Inc. announced today that it has been selected by Videotron Ltd. to deploy its CableDiag™ solution designed to identify, prioritize, and diagnose potential service impairments in its cable network. Videotron has licensed three software modules: CableDiagEQ™, CableDiagRF™, and CableDiag31™, delivering a comprehensive Proactive Network Maintenance (PNM) solution.
CableDiagEQ analyzes pre-equalization data to automatically diagnose network faults based on location (in-home, drop/feeder or outside plant), assign severity, and validate repairs. CableDiagRF is an always-on and non-intrusive remote spectrum analyzer that automatically detects impairments (suckout, wave, ingress noise, etc.) that affect both video and high-speed data service. CableDiag31 monitors and reports on DOCSIS 3.1 service performance using PNM data collected from cable modems and CMTSs as specified in the DOCSIS 3.1 OSSI specifications.
The Akleza CableDiag PNM solution will help Videotron identify and address HFC network and customer service issues while detecting potential problems proactively.
"We are very pleased to be working with Videotron to help Videotron network technicians identify, isolate and resolve faults in their networks thereby reducing their operational expenses," said James Medlock, CEO of Akleza. "We are singularly focused on hiding the complexity of the underlying technology and delivering a set of intuitive graphical software tools that makes life easier for field technicians and customer service representatives".
About Akleza, Inc.
Based in Colorado, Akleza is a leading provider of PNM solutions for cable operators worldwide. Our comprehensive set of diagnostic tools are cloud-based software only products that take advantage of the existing capabilities of a HFC network and does not require any additional hardware. Our mission is to help operators pro-actively monitor and improve their network quality thereby enhancing customer satisfaction. To learn more, visit akleza.com or connect with us on LinkedIn.