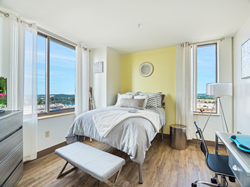 MIAMI (PRWEB) May 06, 2020
Vie Management, a student housing and multifamily communities financing, acquisition, development and management company is launching a new program to support traveling medical professionals during the COVID-19 pandemic. The program, set to start May 1 and go through Aug. 1, is giving 100 free beds to traveling medical professionals across five of its communities throughout the U.S.
The communities include Vie Towers in Hyattsville, Maryland, Vie Lofts at San Marcos in San Marcos, Texas, Vie at Raleigh in Raleigh, North Carolina, Southgate Apartments in State College, Pennsylvania, and Hillcrest Apartments and Oakwood Townhomes in Big Rapids, Michigan.
"We greatly appreciate the sacrifices that medical professionals all over the U.S. are making in the midst of the Coronavirus pandemic in order to keep us safe and healthy," said Derrick Milam, COO of Vie Management. "We feel it is our duty to help them out in any way we can in order to remove any of the obstacles they may face during these difficult times, such as finding temporary housing when traveling to serve a new community."
This offer is available to any traveling nurse, first responder and healthcare professional who needs to temporarily relocate in order to serve a new city or town due to the coronavirus pandemic. To put in an application, medical professionals can apply online through the community's website in order to complete the application process, identify their profession and sign a formal lease. No credit check is required.
"When facing uncertainty, it's crucial that we stand together to help each other wherever and whenever we can," Milam said. "Our medical professionals and first responders need our support and we are happy to help them, just as they have always helped us."
For more information about Vie Management, please visit http://www.viemgmt.com or call (786) 899-2954.
About Vie Management:
Vie Management is a vertically integrated real estate investment and management company operating a diversified portfolio of student housing and multifamily communities throughout the country. With over 18 years of experience, Vie has owned and managed more than 40,000 beds. Vie's global team of 200 dedicated professionals believe it is our core mission to create engaging and inspiring living experiences for all our thousands of valued residents across the premier housing markets of the United States. Emphasizing a life of health, fitness, diversity and personal growth, Vie has created destination communities with a consistent track record of success and value-creation for our residents and investors alike. In every community we cultivate, guests enjoy access to premium services such as world class Fitness Centers (Vie Fit), exclusive high-end coffee experiences (Kahvie Café), comfortable coworking and creative lounges, elevated design and an array of unique amenities for resident enjoyment and creativity.
Vie Management is active in all its local communities, via its Vie Inspired Program, and committed to philanthropic investment wherever we are located.