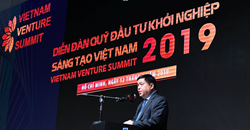 HANOI, Vietnam (PRWEB) November 25, 2020
Due to COVID-19 travel restrictions, this year's summit will be a hybrid offline and online event. Hosted in Hanoi's National Convention Center, 1,000 in-person delegates will attend with an additional 2,000 guests joining virtually across the globe.
Delegates include leaders from several Vietnam ministries, global technology firms such as Paypal and Google, and industry veterans from well-known startups such as VNG, Grab, MoMo, GoJek, VNPay, Tiki and Sendo. Representatives of major investment funds such as Golden Gate Ventures, Softbank Venture, Sequoia Capital, ADB Ventures, Qiming Venture are scheduled to speak as virtual panelists.
Preceding the summit were two virtual pre-panels on macro-economic trends and social commerce in ASEAN. Steven Okun, ASEAN representative of the Emerging Markets Private Equity Association (EMPEA), had particularly astute observations about the region's fintech wave moving trends in sustainable initiatives that have been a long time coming in financial inclusion, renewable energy and agritech. On the same note, Bernard Thiam, Senior Economist at the Asian Development Bank, called for ASEAN to shift policy focus from financial support to transforming the economy with investments in basic, sustainable infrastructure. Klaus Wang, VP at Sequoia Capital, quipped in about re-defining social media application programming interface (API) to help merchants sell better.
The main summit on 25 Nov will be key-noted by two Vietnamese ministers: Vu Duc Dam (Deputy Prime Minister) and Nguyen Chi Dung (Minister, MPI). Expect to hear actionable insights and honest discussions on Edtech, Fintech and Logistics tech in ASEAN - and how founders and investors can navigate through the pandemic in the region.
During the main summit, the Ministry of Planning and Investment is also scheduled to make an announcement on a multi-trillion dollar dong investment pledge for early-stage Vietnamese tech startups.
Even as the Covid-19 pandemic uproots many aspects of daily life, Vietnam's early decisions and healthcare policies have weathered the pandemic very well. With a population of almost 100M and home to one of the world's most populated cities, Ho Chi Minh City, Vietnam has been a bellwether for ASEAN economics post-pandemic. As part of a Multi-trillion Vietnamese Dong investment pledge being announced on Wednesday, global investors are pledging to invest nearly twice the amount as previously committed in early-stage Vietnamese tech startups. The optimism reflects confidence in Vietnam's quick rebound and potential to remain a long-term outperformer in ASEAN.
According to McKinsey, by 2025, Vietnam could capture $100 billion through the formation of 12 large digital ecosystems across retail and institutional services.
The main summit on 25 Nov is still accepting last applicants (with approval) at http://www.vietnamventuresummit.com/request-invite, apply with the referral code: GOVIETNAM.