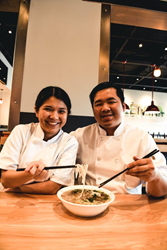 "We know exactly where all of our ingredients are from," said VIETVANA Founder Dinh Tran, "and we're proud to support local, Georgia farmers."
ATLANTA (PRWEB) February 14, 2020
VIỆTVANA Phở Noodle House is opening its second Atlanta location at Square on Fifth at 848 Spring Street NW on Monday, Feb. 17, 2020, bringing modern Vietnamese cuisine to the Midtown and Georgia Tech communities.
The new location will feature the cuisine husband and wife team Dinh Tran and Khanh Dang have made popular at their first VIỆTVANA in Avondale Estates. The restaurant's name reflects the idea of Vietnamese food meeting nirvana, or VIỆTVANA.
"We're thrilled to keep expanding our restaurant business," said Tran, who creates the recipes with his mother, Tina Nguyen, who also can often be found in the restaurants' kitchens.
VIỆTVANA's mission is to change the narrative of Vietnamese food around the world… starting with locally-sourced, authentic cuisine in Atlanta that reminds the founders of what they enjoy in their families' kitchens back in Saigon – recipes honed over hundreds of years from different cultures and regions across Vietnam. This mission sent the restaurateurs on a quest to create their own phở noodle and banh mi bread, with both prepared fresh in-house daily.
They spent months creating their own phở noodle recipe, made in the restaurant daily (as opposed to coming from a package). "They give the broth a cleaner taste, as the noodles don't affect the broth flavor," Tran says. They also collaborated with a local French bakery to make their banh mi bread batter, which is cooked fresh in the restaurants.
Tran and Dang, a millennial couple, are dedicated to having the freshest products – the way they remember meals in Vietnam. The flavors emanate from the meat and vegetables instead of sugar and salt. They also meet with their suppliers – almost entirely Georgia-based – ensuring high quality meats and veggies delivered daily are the main ingredients of their dishes.
"We know exactly where all of our ingredients come from," Tran said, "including the beef, chicken and vegetables that go into our phở broth. And we're proud to support local, Georgia farmers."
This is the second restaurant for the pair and a third VIỆTVANA is under construction at 2550 Pleasant Hill Road in Duluth and will open later this year.
Please note: VIỆTVANA is offering a free BBQ sandwich for the first 50 customers at the Midtown location every day from Feb. 17 to Feb. 21.
VIỆTVANA Phở Noodle House details:

VIETVANA Phở Noodle House will open in Midtown Atlanta on Feb. 17, 2020
Hours are Monday-Sunday,11 a.m. to 11 p.m.
Address: 848 Spring St. NW, Suite C, Atlanta, GA 30308
Website: https://vietvana.com/
Phone: 404-963-2087
Social media: @Vietvana on Facebook and Instagram
Media images and menus here(new menu options marked NEW)
About VIETVANA Phở Noodle House
VIỆTVANA Phở Noodle House is a restaurant concept founded by Dinh Tran and Khanh Dang, Vietnamese natives and millennials, who are proud of their traditional Vietnamese recipes and the hospitality with which it's served. For more information, visit https://vietvana.com/
Media Contact:
Rachel Tobin, Lexicon Strategies, rtobin@lexiconstrategies.com, (404) 276-5930