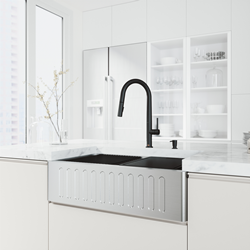 "We're very excited about this latest innovation. Not only does it look great, but it's going to save time and help people get back to what matters most-spending time with their loved ones." - CEO/founder Lenny Valdberg
NEW YORK (PRWEB) November 12, 2019
Kitchen and Bathroom manufacturer VIGO has always been at the forefront of industry trends. Their commitment to delivering efficiency-driven, sleek-looking products has never been greater than with their latest product, the Oxford Kitchen Workstation Sink. Compact yet all-encompassing, this stainless-steel model goes above and beyond the traditional farmhouse sink. With built-in, removable components, unique apron front designs, single- or double-bowl varieties, and multiple sizing options, the Oxford is an updated interpretation of a classic.
The Oxford Kitchen Sink Workstation combines multiple industry favorites into one set. The sink itself is made from 304-series stainless steel and undercoated in VIGO's proprietary SoundAbsorbTM Technology, making for an ultra-quiet and condensation-free experience. Resistant to rust, corrosion, and tarnish, the sink can remain in residential homes and commercial spaces for years of use. Inside the sink is a protective bottom grid to eliminate the risk of scratches and a stainless-steel strainer (two in the double-bowl varieties). Offered in flat or slotted apron front varieties, the Oxford's basin is a stylish addition to any kitchen space.
While the sink is impressive on its own, the uniqueness of the Oxford Workstation is that it brings additional components into its infrastructure. Unlike other models, this sink has a discrete built-in ledge to hold a removable cutting board and roll-up silicone drying rack. The cutting board is a sturdy, antibacterial plastic surface that slides left to right or completely out of the sink to increase the usable space. Its counterpart, the roll-up silicone drying rack, can be used as a surface on which to rinse vegetables, as a rack on which to rest drying drinkware and dishes, or as a heat-resistant protective barrier on countertops for hot pots and pans.
The Oxford is modern efficiency at its finest. Having all accessories within reach reduces unnecessary lag time, increases productivity, and looks just as high-end (if not more) as the original models. It pairs well with any VIGO Single-Handle Kitchen Faucet, making it an excellent addition to contemporary kitchens everywhere. For more information on the VIGO Oxford, please visit the VIGO website.
About VIGO
Since its inception in 2009, VIGO has remained committed to providing The Ideal Everyday for all customers. Based in New York City, VIGO was named one of Inc. 5000's Fastest Growing Private Companies in America. VIGO produces innovative kitchen, bathroom, and shower designs that are not only visually stunning but also optimally functional. By producing high-tech, ergonomically-friendly products, VIGO continuously exceeds environmental and quality standards. Under the guidance and design of founder/CEO Lenny Valdberg, VIGO's acute attention to detail consistently results in the production of remarkably designed, high-quality products. With a dedication to providing top-notch customer service, VIGO helps consumers live better every day in every way.