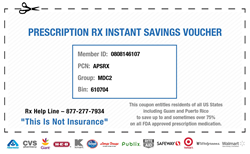 New York, NY (PRWEB) October 14, 2014
Major depressive disorder is a serious and debilitating condition, impacting roughly 8% of Americans (nimh.nih.gov/statistics/1mdd_adult.shtml). Clinical depression does not mean simply being sad or in a bad mood. It is characterized by prolonged hopelessness, intense fatigue, and a lack of interest in daily tasks. The CDC states that over 8 million Americans are treated for depression each year. Without effective treatment, patients can expect a worsening of symptoms; when left untreated, as many as 15% of sufferers attempt suicide. Drugs such as Viibryd, and Lamictal can literally save lives and help patients live better.
The implementation of the Affordable Care Act widened access to mental health care, and can help make medications more affordable for some families. However, not all plans offer affordable mental health coverage. MedicationDiscountCard.com aims to provide everyone with access to affordable mental health medications with Celexa, and Viibryd discount cards. The website offers savings of up to 75% off prescription anti-depressants and mood stabilizers that help patients suffering from depression or bipolar disorder. Those savings can make all the difference to patients struggling with the high cost of prescriptions.
Mental health medications are slow to be offered in generic forms, meaning that for many patients, the cost of treatment remains high. Medication discount cards are free to obtain, and offer immediate savings on prescription medications not covered by existing insurance, or for patients who do not have insurance coverage. These include mental health medications like Wellbutrin and thousands more. To obtain a card and start saving, patients can print out the card for their prescription from MedicationDiscountCard.com, or may request that one be sent via postal mail. No medical history or credit card information is needed. Once the prescription discount card is printed (or received), it can be used at thousands of participating pharmacies in the U.S., both chain and local. There's no limit on how many times the card may be used, and the cards do not expire. MedicationDiscountCard.com is serious about helping make medications affordable.