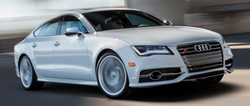 KNOXVILLE, Tenn. (PRWEB) October 31, 2018
Online shopping has been around for well over a decade, perhaps even two, but only in recent years has the automotive industry begun to hop on the bandwagon. Now, car shopping is easier than ever, as evidenced by Knoxville-area dealership, Viles Automotive. Shoppers in the area and beyond can now browse the dealership's inventory from their office chair or even the recliner in their living room, all thanks to its website, http://www.VilesAutomotive.com.
The website provides an in-depth look at all of the vehicles that can be found at the dealership's physical location, both with photos as well as detailed information on everything from its fuel economy ratings, to the transmission it utilizes, to a list of features and much more. Of course, this includes its mileage and the price tag for which it is available.
Beyond simply browsing for a used vehicle, the Viles website provides financial information, like the ability to value your trade or even achieve online credit approval, all from the comfort of home. Once a shopper has found a vehicle, or multiple vehicles, that they're interested in, they can schedule a test drive and finally head into the dealership's showroom to see it or them in person. This means even shoppers outside the city's limits, residing in places like Morristown for instance, can conveniently shop for a vehicle from Viles Automotive.
Potential car buyers in Knoxville and beyond are encouraged to browse the Viles Automotive website for further information, and to call the sales team at 865-859-0186 if any questions arise. The Viles Supercenter is located at 905 Callahan Dr. in Knoxville.