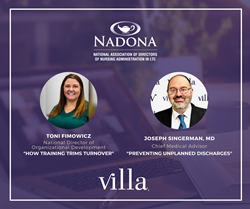 Michelle Scherwinski, CNO at Villa Healthcare says, "When we are able to share expertise with others in the skilled nursing industry, it makes each of us better, and most importantly, it makes care for nursing home residents better."
LINCOLNWOOD, Ill. (PRWEB) October 20, 2020
Villa Healthcare applauds Dr. Joseph Singerman and Toni Fimowicz who are invited speakers at the National Association of Directors of Nursing Administration in Long Term Care (NADONA) National Conference. The NADONA National Conference is the largest annual meeting of nurse executives working in long-term and post-acute care. With over 35 state chapters, NADONA continues to be the largest organization representing nurses working in long-term care settings such as assisted living, skilled nursing, mentally challenged/developmentally disabled, and rehabilitation facilities.
Dr. Singerman, Chief Medical Officer at Villa, is instrumental in Villa's efforts to grow and develop clinical programs and capabilities at each center. He provides leadership and guidance to Villa's medical directors and responds to emerging clinical trends to help position each center to be a clinical leader. Earning his Bachelor's degree in Talmudic Law from Ner Israel Rabbinical College, Dr. Singerman went on to complete medical school at Michigan State University. He completed his residency at Botsford Hospital, and is board-certified in Internal Medicine. Currently on staff at William Beaumont hospital in Michigan and affiliated with the Detroit Medical Center (DMC), Dr. Singerman was voted one of the top doctors in the state of Michigan by his peers, leading to a spot on Hour Detroit's Top Docs List for the last six years. When not pursuing his passions in the medical arena, Dr. Singerman enjoys spending time with his wife and their seven children.
Dr. Singerman's presentation will help attendees understand both skills and strategies that can easily reduce unplanned discharges from SNFs. He will walk the group through concepts such as Early intervention and management of acute situation skills, Medical reduction and palliative care, and Chart review.
Toni Fimowicz began her career in hospitality and transitioned to skilled nursing in 2016. Guest experience is her forte - a skill she brought from the hotel world into skilled nursing. She is the National Director of Organizational Development where she leverages patient and employee feedback to provide support for training, succession planning, and program development with the goal of improving clinical outcomes in an employee-centered care environment. Toni lives in northern Chicago and is pursuing her Master's degree in Organizational Leadership and Learning.
Toni's session presents new employee training as one component that can improve turnover statistics for long-term care settings. She will enable the audience members to assess their employee training processes, understand how to create a plan to get from their current training to desired state, and learn how to regularly refine new employee training to ensure continuous improvement. While employee training is not the sole driver of turnover, the impact it has should not be ignored.
Michelle Scherwinski, Chief Nursing Officer at Villa Healthcare says, "We could not be more proud of and excited for our colleagues to share their knowledge and experience with the NADONA audience. When we are able to share expertise with others in the skilled nursing industry, it makes each of us better, and most importantly, it makes care for nursing home residents better."
We're Villa, and we make people better. Of course, we're focused on quality care and good outcomes. But we're here to do so much more. Villa's leadership has a vision of rising above the status quo—of never settling, and of shattering the old image of this industry. We've always wanted to be a part of something greater, and we're making that a reality. Our commitment to our people, our environment and clinical programs will allow us to fulfill our mission of making people better. For more information, please visit http://www.VillaHC.com.
####