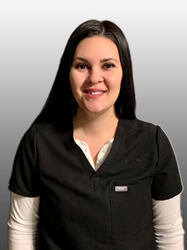 "Jaime has progressed and grown at Villa, making people better each step of the way. Jaime is a Woman of Distinction, not only as a clinical leader, but as a wife, a mother, a nurse and a friend. Congratulations, Jaime, you deserve this recognition!" Michelle Scherwinski, Chief Nursing Officer
LINCOLNWOOD, Ill. (PRWEB) March 17, 2021
Villa Healthcare celebrates Jaime Brady, Vice President of Clinical Operations, on her win for 2021 McKnight's Women of Distinction Rising Star. McKnight's Long-Term Care News created the "Women of Distinction" honors to recognize those who inspire others in the skilled nursing world through their powerful work to benefit residents and colleagues. For the second year, Villa Healthcare has been honored with two winners in the Women of Distinction awards.
"Jaime is a Villa success story, from her early years as a CNA to getting her LPN and then RN. She has progressed and grown at Villa, making people better each step of the way. I've watched her grow from a Regional Nurse and most recently to Vice President of Clinical Operations. Jaime is a Woman of Distinction, not only as a clinical leader, but as a wife, a mother, a nurse and a friend. Congratulations, Jaime, you deserve this recognition," says Michelle Scherwinski, Chief Nursing Officer.
While Jaime did not picture a career in nursing, she knew she loved being around people and taking care of others. With reflection, Jaime notes that she may have had a glimpse into her career in long-term care as a child. Throughout elementary school, Jaime lived in Minneapolis, across the street from a nursing home and went over weekly to paint ceramics with the seniors. "I didn't miss many days," she reflects with a smile.
Jaime says her best advice to others who may be considering a career in long-term care is, "It's a people business. You need to like people and have patience." Perhaps reflecting back to 2020, Jaime notes, "The good times are good and the bad times are tough. Bad times don't last."
During nursing school, Jaime worked as a CNA at Galtier, a Villa Center, as well as at a memory care facility. At the memory care facility, she honed her skills as a person-centered caregiver with cooking, cleaning, passing meds, and dining with residents. She carried this experience to her work at Galtier and throughout her career at Villa. When Jaime completed her LPN training, she was able to move through the ranks at Galtier. After securing her RN degree, Jaime wanted to try out working in hospitals and thought that would be the ideal work environment. She soon found out that she missed spending time with seniors and the ability to have long-term relationships with her patients and their families. She found that the hospital did not provide the community-feel that she was seeking. Jaime went back to geriatrics and was able to return to Galtier as a Nursing Manager.
After about 18 months back, the Director of Nursing at Galtier retired and Jaime was offered the position. She shares the overwhelming feelings associated with this promotion, "I was excited, scared, and proud – it was the proudest moment for me in my life." Jaime notes that becoming a confident DON didn't happen overnight. It took her about a year to feel comfortable leading the building, and she credits her mentor for the training, pushing and inspiration. "He showed me how to make it [Galtier] into a community and how I could be a leader [in the facility and in the community]." Jaime was the DON at Galtier for about two and half years before applying for a Regional Nursing position to oversee the eight Minnesota buildings in a clinical capability. For five years she grew in this position and even added three more buildings in Minnesota.
In early 2020, Jaime was promoted to Vice President of Clinical Operations and was able to grow her operational skills. Over the course of 2020, she has developed her role, leading two DCOs and added an additional four buildings, bringing her total to 15 buildings. Jaime was promoted to her current position at the same time the world began dealing with COVID-19. So, she was learning her new role simultaneously with learning to manage operations during a pandemic. Beyond that, the additional four buildings in her role were not in Minnesota, they were in Michigan. This meant she needed to learn new state regulations, new buildings and start fostering new relationships with leaders in the region.
Jaime credits getting through the worst of COVID-19 to hard work, "I've never worked so hard, for so many hours, in my life."
Her daily calls with leadership in each of the 15 buildings she oversaw during the pandemic offered the leaders a consistent time to ask questions, get feedback, and problem solve. Jaime sees herself as a resource to her buildings and has challenged herself to become a subject matter expert on all clinical and operational areas related to COVID-19. Even more important than being a leader, according to Jaime, is "wearing scrubs every day, being flexible and ready to help out however I'm needed."
We're Villa, and we make people better. Of course, we're focused on quality care and good outcomes, but we're here to do so much more. Villa's leadership has a vision of rising above the status quo—of never settling, and of shattering the old image of this industry. We've always wanted to be a part of something greater, and we're making that a reality. Our commitment to our people, our environment and clinical programs will allow us to fulfill our mission of making people better. For more information, please visit http://www.VillaHC.com.