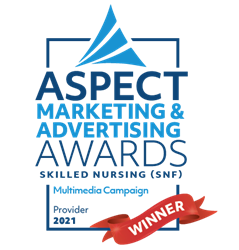 "At Villa, our culture emphasizes teamwork as we all work together to make people better. This award for marketing recognizes how we did this in the COVID-19 environment. This award encourages our team to continue innovating our marketing strategy and implementation." Avi Lev, CMO
LINCOLNWOOD, Ill. (PRWEB) May 03, 2021
Villa Healthcare has won a NEW prestigious award for its 2020 integrated marketing campaign in which Villa employed innovative marketing techniques to advance the organization despite the dramatic challenges of the COVID-19 pandemic.
Villa Healthcare is pleased to be named the Skilled Nursing Multimedia Campaign Winner for 2021 Aspect Awards. Aging Media Network presents the Aspect Awards for Marketing, Advertising and Public Relations Awards featuring the industry's best campaigns from a broad spectrum of care providers and vendors across the country. These awards honor projects and campaigns that showcase the industries, their customers, employees and services they provide.
"Marketing is about far more than generating leads and closing sales. In the skilled nursing world, we must focus on how to best keep our patients, our families, our staff and our communities informed on what is happening in our centers and the care we are providing our patients. COVID-19 created additional challenges to every aspect of nursing homes from safety to staffing to finances and operations," said Avi Lev, Chief Marketing Officer. "At Villa, our culture emphasizes teamwork as we all work together to make people better. This award for marketing recognizes how we did this in the COVID-19 environment. This award encourages our team to continue innovating our marketing strategy and implementation."
Winning Campaign: Pushing Forward: How COVID-19 Inspired Villa to Go Digital
COVID-19 challenged census in nursing homes, as well as staff retention and recruiting, as there was great apprehension among staff and future residents. Staff worked valiantly, but saw residents become sick with COVID-19. Staff members contracted COVID-19 and feared for the safety of themselves and their families. Prospective residents held off on skilled nursing facility admission, hoping the pandemic would end soon. Additionally, clinical liaisons were no longer allowed in hospitals to meet with prospective patients who could come to Villa after hospital discharge.
Faced with census rates that dropped by 26.6% in March and April 2020, Villa knew turned to marketing to help reverse those trends. Villa created a contemporary positive approach in digital marketing to combat the urgent problem of COVID-19 forcing census decline and staffing shortages. It was imperative that Villa reach prospective employees and prospective residents -- and those who refer them -- as quickly as possible with educational and engaging content.
Villa named its campaign Pushing Forward: How COVID-19 Inspired Villa to Go Digital. Despite impediments caused by the pandemic, Villa re-launched its website and social media communication to current and future employees. Villa used the need to post critical COVID-19 information updates as an opportunity to re-launch the entire website on an accelerated timeline. This multiplied unique visitors to Villa's website by five times year over year in the Detroit market, where staffing is (was?) most challenged.
Villa also focused on increasing its use of social media with an emphasis on the pride employees take in their work. To honor and uplift the heroic care Villa staff were providing, the Marketing team decided a video was the best vehicle for showcasing Villa team members. This Villa Heroes Video created 116,280 Views on Social Media. On Facebook, Villa multiplied content reach by eight times year over year and engagement with content by four times year over year.
We're Villa, and we make people better. Of course, we're focused on quality care and good outcomes. But we're here to do so much more. Villa's leadership has a vision of rising above the status quo—of never settling, and of shattering the old image of this industry. We've always wanted to be a part of something greater, and we're making that a reality. Our commitment to our people, our environment and clinical programs will allow us to fulfill our mission of making people better. For more information, please visit http://www.VillaHC.com.