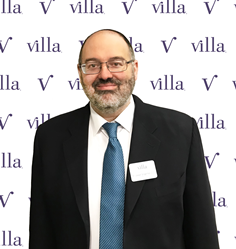 Michelle Scherwinski, Chief Nursing Officer at Villa says, "Thank you, Dr. Singerman. The team at Villa is better for the support, guidance, expertise and direction you provide to our clinicians. We appreciate everything you do."
LINCOLNWOOD, Ill. (PRWEB) October 01, 2020
Villa Healthcare, a leader in skilled nursing, proudly shares that Dr. Joseph Singerman, Chief Medical Officer was selected for a FIFTH time as a Top Internal Medicine Doctor in Detroit. Hour Detroit Magazine recognizes physicians who have been selected by peer medical professionals as "respected, qualified and talented medical professionals… to whom you would refer a loved one."
Dr. Singerman joined Villa in 2015 and is instrumental in efforts to grow and develop clinical programs and capabilities at each of their 34 skilled nursing facilities. Dr. Singerman provides leadership and guidance to Villa's Medical Directors and responds to emerging clinical trends to help position each center to be a clinical leader.
Michelle Scherwinski, Chief Nursing Officer at Villa says, "Thank you, Dr. Singerman. The team at Villa is better for the support, guidance, expertise and direction you provide to our clinicians. We appreciate everything you do."
Dr. Singerman earned his Bachelor's degree in Talmudic Law from Ner Israel Rabbinical College, followed by medical school at Michigan State University. Dr. Singerman is currently on staff at Beaumont Hospital and affiliated with Detroit Medical Center. When he is not Making People Better at Villa, Dr. Singerman enjoys spending time with his wife and seven children.
We're Villa, and we make people better. Of course, we're focused on quality care and good outcomes. But we're here to do so much more. Villa's leadership has a vision of rising above the status quo—of never settling, and of shattering the old image of this industry. We've always wanted to be a part of something greater, and we're making that a reality. Our commitment to our people, our environment and clinical programs will allow us to fulfill our mission of making people better. For more information, please visit http://www.VillaHC.com.
####