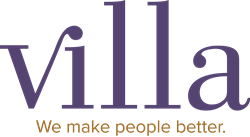 "We wanted to thank our employees for their unwavering commitment to our residents throughout this pandemic. They are all heroes," said Mark Berger, CEO of Villa Healthcare.
LINCOLNWOOD, Ill. (PRWEB) February 22, 2021
Throughout the trauma and challenges of the COVID-19 pandemic, employees of Villa Healthcare have worked tirelessly to serve nursing home residents every day. To show appreciation for that hero-level commitment, Villa stepped up to create several initiatives to recognize employees' contributions on the front lines of health care.
"We wanted to thank our employees for their unwavering commitment to our residents throughout this pandemic. They are all heroes. Their dedication and service to our residents is just as laudable as the efforts of doctors, nurses and aides in a hospital setting," said Mark Berger, CEO of Villa Healthcare. "Today, our heroes don't wear capes. They wear scrubs and face masks."
The pandemic has severely stressed both the long-term care industry and the people who work in it. Many long-term care organizations have faced financial losses. Employees have learned to work in the midst of the pandemic, wearing Personal Protective Equipment, caring for patients with the virus and sometimes contracting COVID-19 themselves. Some employees' families have struggled economically through the pandemic.
When the pandemic started, Villa pledged to its employees that it would stand by them and support them. "At Villa, we respond with action to ensure that nobody suffers any more than what they're dealing with already as a result of the pandemic," Berger said. To provide support, Villa created several initiatives.
Villa Hero Foundation:
Villa leadership felt it was imperative to provide staff, those who give of themselves day in and day out to help others, access to emergency assistance when they are in need. And with that, the Villa Hero Foundation was established, an independent non-profit charitable organization. The Foundation, through donor and employee contributions, provides financial support to help Villa Healthcare heroes cope with the consequences of unexpected financial hardships or disasters. Villa's ownership committed to match all initial employee contributions to get the fund started in the right direction.
The Villa Hero Foundation's very first grant recipient, Peggy, shared some encouraging words with her fellow healthcare heroes. "Heroes helping heroes! When you receive a call from a doctor sharing news with you that you were not expecting, life stops for a moment. Whatever the situation, mine was breast cancer, you will get through it. I received a grant from the Villa Hero Foundation, and I was able to apply the money towards an outstanding bill. Thank you, fellow heroes for contributing to this Foundation. I will be eternally grateful for your support. Now I'm able to be a contributing hero!"
Peggy's story is just the start of what is soon to be many Villa Healthcare heroes who have benefited from the work of the Villa Hero Foundation. We're heroes helping heroes.
Other Initiatives:
In addition to creating the Villa Hero Foundation, Villa also:

Implemented COVID units with Hero Pay for staff.
Supplemented sick time for any employee who needed time off for illness, no matter what reserves they had.
Set up a COVID-19 purchasing department to ensure there was always enough PPE to supply staff and residents.
Allowed staff who had cancelled vacations and time off to help support resident care to roll over their time to 2021 or receive a financial payout.
Distributed bonuses to employees when holiday parties were cancelled.
The appreciation continues as we move forward into 2021. Villa is launching initiatives to ensure a strong Villa culture is number one. These initiatives are designed to keep staff on our team, help them grow in their careers and ensure they are supported in their work. According to a recent survey, over 80% of Villa staff take pride in their work and ability to care for our residents. Villa's culture initiatives aim to nurture this quality. Villa staff will see these cultural initiatives through changes in recruitment, orientation, employee reviews, and center-leadership. Villa staff will continue to be recognized for their work to live the Villa culture and to celebrate their work to Make People Better.
We're Villa, and we make people better. Of course, we're focused on quality care and good outcomes. But we're here to do so much more. Villa's leadership has a vision of rising above the status quo—of never settling, and of shattering the old image of this industry. We've always wanted to be a part of something greater, and we're making that a reality. Our commitment to our people, our environment and clinical programs will allow us to fulfill our mission of making people better. For more information, please visit http://www.VillaHC.com.