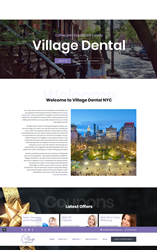 Being recognized as a Top Patient Rated Dentist means a great deal to our team at Village Dental NYC. We treat our patients like family and work to bring their smiles to the highest level of health and beauty, says Dr. Lydia Legg
NEW YORK (PRWEB) February 12, 2020
Dr. Lydia Legg and her team at Village Dental NYC are among an elite group of dental practices with a large number of exceptional ratings and online reviews. As a result, Village Dental NYC has earned the 2019 Top Patient Rated New York City Dentist award. Find Local Doctors offers a trusted online directory, helping patients easily locate highly-qualified and reputable physicians and dentists in their area.
Located at 77 E 12th St, New York, NY, Village Dental's friendly, experienced team provides sensitive, compassionate care in a relaxing environment. Patients of all ages are offered a full menu of dental services, with a focus on advanced options for enhancing smiles through general, cosmetic and restorative dentistry treatments. These treatments include composite fillings, root canal therapy, treatment for gum disease, tooth extractions and much more. Village Dental NYC also offers cosmetic dentistry with the added prosthodontic difference. Dr. Lydia Legg is an experienced prosthodontist, offering the highest level of dentistry excellence. With her additional training, she can create a stunning smile from even the most challenging dental cases. Dr. Legg can make your new smile look beautifully natural with veneers, dental implants, dentures, bridges and crowns at Village Dental NYC.
"Being recognized as a Top Patient Rated Dentist means a great deal to our team at Village Dental NYC. We treat our patients like family and work to bring their smiles to the highest level of health and beauty," says Dr. Lydia Legg
At Village Dental NYC, they go the extra mile with individualized care to ensure that each patient is comfortable and at ease. They use the latest in advanced, cutting-edge technology so that dental visits are the most positive dental experience possible. Dr. Lydia Legg and her team focus on providing every patient with a customized treatment plan to address their oral health and aesthetic needs. If you live in NYC and want the best dental care available, visit Village Dental NYC.
More about Village Dental NYC:
Go above and beyond general dental care and choose a prosthodontist for your oral health care. Village Dental NYC is your source for advanced cosmetic, implant and general dentistry. For more information on the services provided at this practice or to schedule an appointment, please visit http://www.villagedentalnyc.com or call (212) 674-2024.