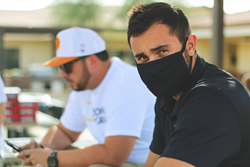 "Our kids have gone outside every day to skate since this event! Thank you to all for your generosity!!!!" says Kristi Tanner, House Parent at Sunshine Acres Children's Home.
SCOTTSDALE, Ariz. (PRWEB) April 16, 2021
Vincent Fratantoni, pleased to announce a generous donation of school supplies and skateboards for the children in need at Sunshine Acres Children's Home. This donation was led by Vince The Builder, LLC with participation from Uncle Skate Charity, Cowtown Skateboards, Phoenix SkaterCon International, Crackers & Co. Café, Shamrockfoods Foodservice Warehouse 536.
"Thank you to all of our sponsors and volunteers. We made this happen and to everyone who donated couldn't have done it without your donations." says Uncle Skate, Founder at Uncle Skate Charity, Nonprofit Organization. "We were able to get 50 complete skateboards and helmets, over 20 backpacks full of back-to-school supplies, Jimmy John's and Shamrock Foods donated three dozen milks and juice boxes to the kids at Sunshine Acres this year."
This donation will be used to invest in the care of the children at Sunshine Acres Children's Home. Specifically, the areas that the company will focus on are:

Help make a difference in a way we're unable to provide ourselves, while giving back to the community
Donate not only essential schools supplies but include an element of fun with the skateboards
Investing in the children to give them not only the essentials but an opportunity to be successful adults
Sunshine Acres provides a loving, wholesome, Christian home for children who are separated from their parents and helps them establish long-term relationships with stable parental figures, preparing them for success in adult life.
"Our kids had a great time learning new skateboard tricks and skills with Uncle Skate!" says Sunshine Acres "They're building more confidence and learning that it's okay to fall sometimes, you just have to get back up and try again!"
About Vince The Builder, LLC: Vince Fratantoni (also known as @VinceTheBuilder) is a young world-class entrepreneur changing the game in the real estate industry. Vince is not only dedicated to creating dream homes, he also aspires to help children build their dreams. This aspiration led him to release his first book, "Vince The Builder: Let's Build A Home!" With 100% of profits raised from his story will be used to create better futures for underprivileged children.